This information about apprenticeships applies to Northern Ireland.
New Apprenticeship Incentive Scheme
More information on the financial incentives available to all employers to support the recruitment of new apprentices can be found here.
Currently in Northern Ireland, hair and beauty apprentices must be aged between 16 and 24.
The following hair and beauty apprenticeships are available in Northern Ireland, all at level 2 and level 3 frameworks:
Hairdressing
Barbering
Beauty therapy
Nail services
Spa therapy
Hair and beauty apprentices must complete level 2 before progressing to level 3.
It usually takes up to two years to complete level 2 and up to four years to finish both levels.
Getting started
You can advertise your apprenticeship opportunities free of charge at Connect to Success NI.
If you want to take on an apprentice, or place a current employee on an apprenticeship programme, you will need to find an approved apprenticeship training contractor.
Find approved contractors on the nidirect website.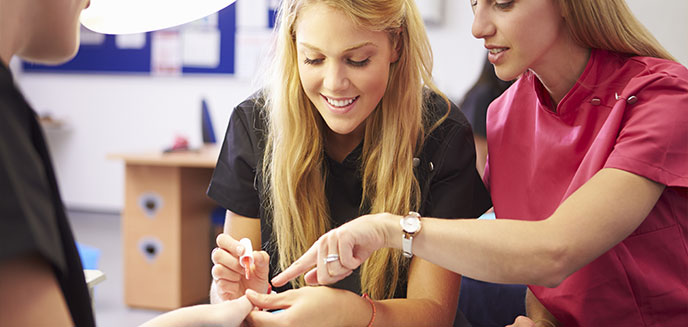 What happens next?
Your chosen training contractor will meet with you and your apprentice to develop a tailored training programme.
You must contract your apprentice to work at least 21 hours a week, including day release for training.
For more information download Apprenticeships in Northern Ireland - A Guide for Employers from the Department for the Economy website.
Apprenticeship funding in Northern Ireland
Funding for the 'off-the-job' element at framework levels 2 and 3 is provided through the Northern Ireland European Social Fund and Department for the Economy.
An Employer Incentive Payment is available to employers whose apprentices successfully complete their level 2 or level 3.
You must pay your apprentices at least the National Minimum Wage (NMW) for apprentices. Find out more about the NMW and apprentice rates. (Funding cannot be used to pay wages.)
Apprenticeship levy
Employers with a pay bill of £3 million or over must pay 0.5% of their pay bill into a pot to help pay for apprenticeship training. This levy applies across the whole of the UK but how the funds can be used varies between England, Wales, Scotland and Northern Ireland.
Large employers will have a £15,000 allowance to offset against their levy payment.
For more information about the apprenticeship levy in Northern Ireland, download Apprenticeship Levy Frequently Asked Questions from the Department for the Economy website.
Find out more about apprenticeships in the UK