This information about apprenticeships applies to Scotland. NHBF Members can download free apprenticeship agreements for use in Scotland.
Modern apprenticeships in hairdressing and barbering are offered at levels 5 and 6 (NQF levels 2 and 3) in Scotland. Apprentices must be 16 or older.
There is no beauty apprenticeship, although a range of beauty qualifications are available.
The following apprenticeships are available:
Hairdressing at SCQF level 5 (NQF level 2)
Barbering at SCQF level 5 (NQF level 2)
Hairdressing at SCQF level 6 (NQF level 3)
Barbering at SCQF level 6 (NQF level 3)
Apprentices will start at SCQF level 5 before progressing to level 6.
Find out more about hairdressing and barbering apprenticeship frameworks in Scotland on the apprenticeships.scot website.
Finding an apprentice
You can advertise your apprenticeship opportunities free of charge on the apprenticeship.scot website. You will need to create an account if you have not used the service before.
Finding a learning provider
You will be able to find a learning provider on the apprenticeships.scot website.
Learning providers can help you sort out funding for training your apprentice and will provide support to both you and your apprentice. The learning provider will organise the training your apprentice needs and make sure they are properly registered on the scheme.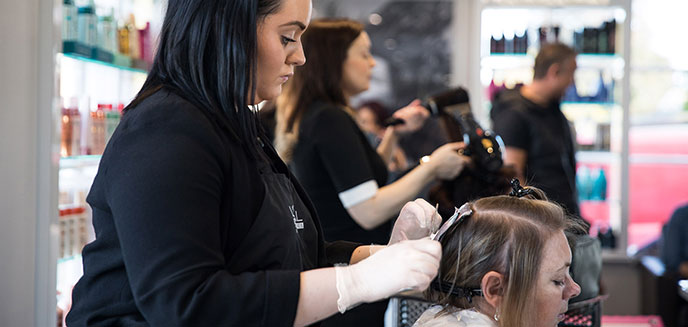 Apprenticeship funding in Scotland
Skills Development Scotland will contribute towards the costs of training a hairdressing or barbering apprentice between the ages of 16 and 24. Funding levels for hairdressing and barbering can be found on the apprenticeships.scot website.
20 November 2020 update:
The Scottish Government has announced investment in jobs to provide the foundations for a strong economic recovery from coronavirus (COVID-19). As part of this, the FWDF (Flexible Workforce Development Fund) has been doubled to £20m for 2020/21.
The Scottish Government announced the fund in their response to the UK Government apprenticeship levy, where it set out how it will use levy funding to support skills, training and employment in Scotland across the private, public and third sectors.
With greater flexibility, employers can now choose between colleges, Open University and private training provision administered through SDS.
The fund is in addition to apprenticeship support which all employers in Scotland can access. Visit apprenticeships.scot to read about Foundation, Modern and Graduate Apprenticeships.
Levy-paying employer can access up to £15,000 with wider access through colleges or Skills Development Scotland (SDS) in 2020/21.
SMEs will be able to access up to £5,000 through college and Open University training in 2020/2.
The fund can be used to completely cover training or to partially cover training at a higher cost.
Levy-paying employers who are interested in using private training provision administered through SDS can use the enquiry form.
For all other FWDF enquiries, including FWDF SME fund and how to apply, please visit the Scottish Funding Council website.
Apprenticeship levy
Employers with a pay bill of £3 million or over must pay 0.5% of their pay bill into a pot to help pay for apprenticeship training. This levy applies across the whole of the UK but how the funds can be used varies between England, Wales, Scotland and Northern Ireland.
Large employers will have a £15,000 allowance to offset against their levy payment.
You must pay your apprentices at least the National Minimum Wage (NMW) for apprentices. Find out more about the NMW and apprentice rates. (Funding cannot be used to pay wages.)
Find out more about apprenticeships in the UK