Apprenticeships in the UK
What is an apprenticeship?
An apprentice learns their trade or profession through a combination of:
on-the-job training with an employer; and
study with a training provider.
Apprenticeships are genuine jobs that enable individuals to learn as they earn.
Hair and beauty apprenticeships typically last between one and two years for each level studied. They are available at levels 2 and 3. In Wales only they are also available at level 4.
Apprentices who successfully complete an apprenticeship are certified as having reached a level of competence which meets current industry standards.
Anyone over the age of 16 can become an apprentice, including existing employees. (In some cases, there is an upper age limit, for example, in Northern Ireland).
What's in it for employers?
Taking on an apprentice is your chance to offer someone a great opportunity and pass on your skills and experience to a new generation. It's also an excellent way to grow your own loyal workforce to suit the needs and culture of your business.
Training an apprentice is also more cost-effective than hiring pre-skilled staff.
Not sure where to start? Read our blog posts to discover some top tips on how to find an apprentice and some of the practicalities involved.
Find out more about hiring an apprentice on the GOV.UK website.
Taking on an apprentice: the basics.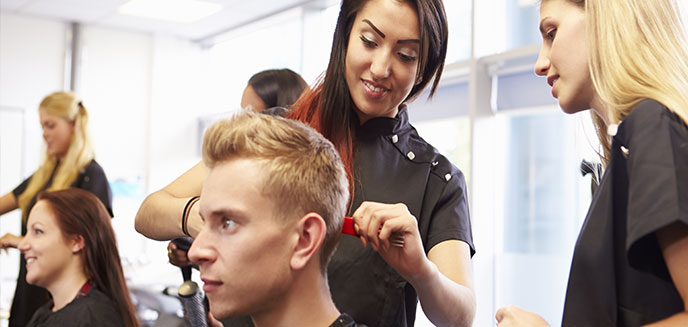 What apprenticeships are available?
There are many different apprenticeships available in the hair and beauty sector leading to a wide variety of job roles.
What you can offer depends on where you are in the UK. Follow the links below to find out more:
See our FAQ for more information.
An introduction to T Levels
T Levels (Technical Levels) are new technical qualifications for those aged 16 and above. They are being developed by the government, business and education. T Levels are two-year, level 3 technical study programmes leading to a specific qualification. They include a work placement of 45-60 days. It is expected that there will be a hair, beauty and aesthetics T Level. Find out more.