Health and safety must be a priority in your hair salon or barbershop. It's vital to protect your staff and clients, operate within the law and be insured against potentially expensive legal action should something go wrong.
Running a beauty salon? Find out more about health and safety in your salon.
This blog post covers:
What the law says
Your hair salon or barbershop must comply with all relevant legislation including:
• Health and Safety at Work Act 1974.
• Control of Substances Hazardous to Health Regulations (COSHH) 2002.
• Cosmetic Products (Safety) Regulations 2004.
You have a duty of care towards your clients and employees.
It is a legal requirement for you to display the health and safety poster approved by the Health and Safety Executive.
Our health and safety toolkit contains everything you need to stay safe and legal in your hair salon or barbershop.

Available for £65 to Members (non-members, £99).
The law says every employer must carry out a risk assessment, and if you have more than five employees it should be written down. However, it's best practice to have a written record even if you have fewer than five employees.
Make a list of anything that could cause injury or harm in your salon.
It's a good idea to involve your staff as they may raise issues that you haven't thought of.
You will then need to set out the steps you have taken to protect your staff and clients from the risks you have identified.
You must carry out a specific risk assessment for employees under the age of 18 to consider additional factors such as their immaturity and lack of experience. (A risk assessment for young people is included in the health and safety toolkit).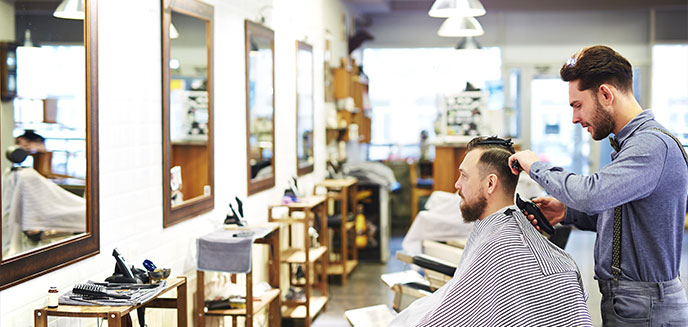 Create a health and safety policy
If you have five or more employees you must have a written health and safety policy. However, it's good practice to have one even if you have fewer than five employees. (The NHBF health and safety toolkit includes a health and safety policy template.)
| | |
| --- | --- |
| | Do you want to set up your own hair or barbering business? This expert guide takes you through the process step by step – from deciding if you're ready to start your own business to the excitement of throwing open your doors for the first time. |
Staff training
The law says you must provide health and safety training for your staff. Employees must have training before they are exposed to any risk and you must record it has taken place.
'Little and often' is a good rule for ongoing health and safety training. This ensures health and safety stays at the forefront of your employees' minds. Consider setting aside 15 minutes at every staff meeting to cover particular issues. (The NHBF health and safety toolkit includes guidelines for employees and the self-employed working in salons which can be used for induction and training.)
Appoint a first aider
You'll need to have at least one appointed person to be in charge of first aid arrangements in your salon or barbershop. It's also recommended that at least one person is trained in emergency first aid at work (EFAW). Find EFAW training courses run by the NHBF.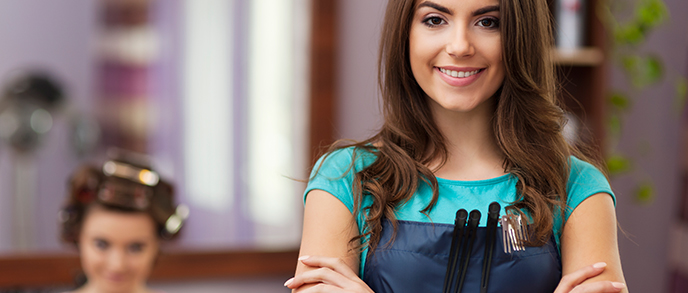 Dermatitis
Your employees may be at risk of dermatitis. Dermatitis is a skin disorder that causes redness, itchiness and swelling. It can also cause flaking, blistering, weeping and cracking. It can be caused by:
• Contact with water or detergents that irritate the skin.
• An allergic response to chemicals; this can take a while to develop.
To protect against dermatitis, your staff must wear disposable non-latex powder-free gloves (nitrile or vinyl) when doing anything that may expose them to the risk of dermatitis. They should change gloves between clients. Encourage your staff to check their hands regularly for signs of dermatitis.
Musculoskeletal problems
Your staff may also experience strains, sprains and general pain due to doing physically repetitive work that involves a lot of standing and bending.
You can reduce the risk by providing:
• Wheeled stools.
• Advice on the best positions to work in – for example, keeping feet apart when standing.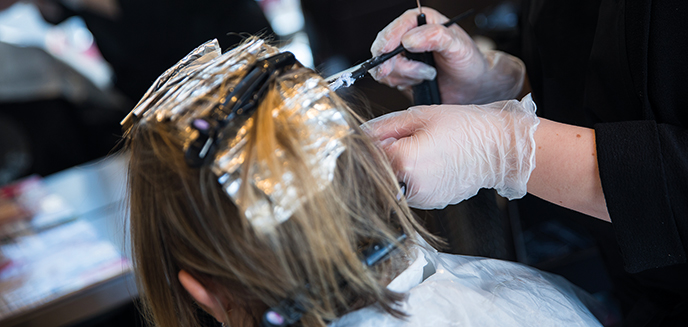 Allergy alert testing
You must carry out allergy alert tests at least 48 hours before applying hair colour.
Allergy alert testing toolkit

Our allergy alert testing toolkit contains everything you need to cover allergy alert testing requirements in your hair salon or barbershop.
If your client suffers any reaction at all, don't go ahead with the appointment. Keep confidential records of the allergy alert tests and outcomes.
Our Allergy Alert Consultation and Colour Record Cards are approved by Coversure Insurance Services, the NHBF's preferred insurance provider.
(If you're insured with another provider, make sure they will cover your use of the NHBF Allergy Alert Consultation and Colour Record Cards).
The NHBF works in partnership with Coversure Insurance Services to provide value-for-money insurance specifically designed for hair salons and barbershops. As an NHBF Member, you'll benefit from a 20% discount on salon insurance. Find out more.
Your staff should also be tested for allergies. Keep confidential records of the results and any action taken.
When storing confidential client or staff information you will need to comply with GDPR, including getting client consent for collecting and keeping health-related information such as client consultation forms.
Don't forget: permanent hair colour, including dye for brow and lash tints, must not be applied to anyone under 16, or used by any employees under the age of 16. You must not carry out an allergy alert test on anyone under the age of 16.
Find out how to set up a simple and effective allergy alert testing system.
Download our detailed Members-only guide to GDPR.

Download our GDPR toolkit which includes templates to help you comply with GDPR.

Not yet a Member? Join us now for less than 75p a day to access this user-friendly in-depth guide and make sure you are complying with GDPR.
Dealing with hazardous products
As part of your risk assessment, make sure you know exactly which substances you have in your hair salon or barbershop and the risks associated with them. Ensure your staff know how to use and dispose of them safely.
Always store hazardous substances in their original containers, away from direct sunlight and preferably in a locked cupboard. Make sure you know which substances should not be poured down the sink.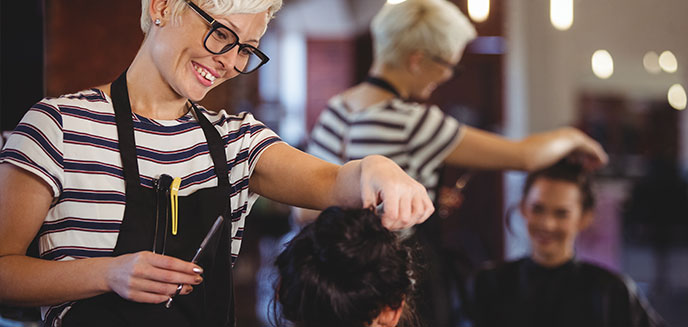 Keeping your salon/barbershop safe
As a salon/barbershop owner, you will also have to ensure that your premises are safe and healthy for your staff and clients. Include this in your risk assessment. For example:
• Your salon/barbershop should be adequately ventilated.
• Gas and electricity appliances should be regularly checked.
• Measures should be taken to avoid slips, trips and falls.
• Guard against legionella by checking your water on a regular basis. Specialist checks are required for spa operators.
• Make sure you have smoke detectors, fire extinguishers, a clear evacuation plan and regular fire drills.
A complete pack of risk assessments is available in the NHBF health and safety toolkit which is free for Members (£10 P&P).
Checklist
• Understand health and safety law and how it applies to your hair salon or barbershop.
• Carry out risk assessments.
• Create a health and safety policy.
• Train your staff on a regular basis and appoint a first aider.
• Take steps to prevent dermatitis and musculoskeletal disorders among your staff.
• Set up an allergy alert testing system approved by your insurance provider.
• Keep your salon/barbershop equipment safe for staff and clients.