Recent research carried out by software firm Mojo and male grooming brand The Bluebeards Revenge found that more than half of male clients aged 18-24 said they would prefer to book online or via a booking app. Yet just 8% of barbershops polled said they offered online bookings with most offering walk-in appointments only. This means there's a great opportunity for you to stand out from the competition and grow your client base.
This blog post covers:
Try a gradual transition
For many barbershops, walking away from walk-in appointments only is a big step to take. And organising an online booking system might seem a daunting prospect. If you're not quite ready to try out online, you could initially introduce telephone appointments – and also encourage your clients to book their next appointment before leaving your barbershop.
You can then judge how popular advance booking is for your existing clients and if telephone booking attracts many new clients. If the trial goes well, you can consider adding online booking to the mix.
Barbershop booking: add online to phone and walk-in
NHBF Member David Looms, manager at Manchester-based Flanagan's Gents Hairdressing, found that online booking made a visible difference very quickly with the first two months being a great success:
"Our city centre barbers saw over 1,000 online bookings so the plan is to roll it out in the other four shops with a fifth one opening very soon. Online booking has given us the ability to fill up the quieter periods. Two-way text messages have reduced no-shows and the staff are not as tired at the end of the day."
Find out how to make your barbershop stand out from the crowd.
Greater efficiency and control
In a pioneering move, NHBF Member Beatties Barbers & Co in Abergavenny and Brynmawr introduced online booking in 2008 and have never looked back:
"It's just about being more efficient. Walk-in appointments do still have their place, of course, and we still offer them," says James Beattie. "But with online booking, as a business, you just know where you are so much more. You have much greater control over your appointments book and you can see what is happening each week."
James reports that their online/walk-in booking split is now an amazing 80/20 – demonstrating how popular online booking can be with barbershop clients.
Make the most of booking technology
Do some research and shop around for the barbershop booking system that will suit you best. Clients should be able to book online 24/7 with double-booking or overlapping automatically prevented.
Additional valuable features to look out for include:
• The ability to take online payments – either a deposit or the full cost.
• Automated appointment reminder messages to reduce no-shows.
• Immediate client feedback requests to help you monitor your performance and reputation.
Look out for providers who offer a free trial and make sure you'll be happy with the level of ongoing backup and support you'll receive.
Download the NHBF's free expert guide to salon and barbershop software.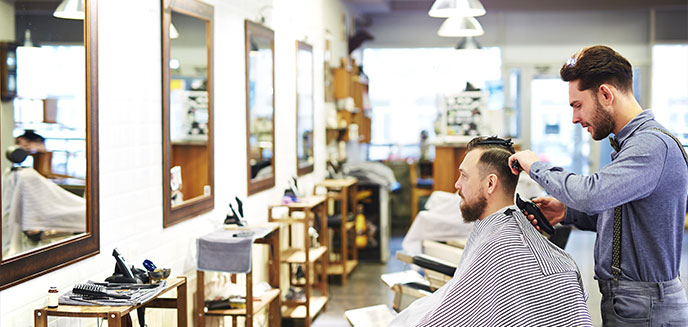 Walk-ins versus online barbershop bookings
"I'd hate it if we ever got rid of walk-in as an option," says James Beattie of Beatties Barbers & Co. "Walk-ins are often good for attracting new clients who see the barbershop and want to give us a try."
But as James points out, it can be awkward if all the chairs are booked when a walk-in turns up – especially if the chairs are empty because clients are due to arrive in a few minutes.
"That can be a tricky conversation at times," says James. "But generally, offering online bookings as a barber just makes a lot of sense."
Fully booked? What do with walk-ins
Combining walk-ins and online bookings at your barbershop can sometimes be awkward if you need to turn away walk-ins because you're fully booked via your online system. Take positive steps to manage the situation:
• Consider moving over to an appointments-only system, enabling clients to book online, via the telephone, or to book their next cut before they leave your barbershop.
• Provide regular and reliable updates about the availability of appointments at your barbershop via your website and social media.
• Publicise the benefits of your online booking system on a regular basis – both online and via leaflets and posters at your barbershop.
• Encourage your staff to 'sell' the idea of online booking to clients while they're having their cut.
• Encourage regular walk-in clients to swap to online booking so they can be sure of an appointment when they want one – offer an incentive such as a gift voucher to swap.
• Advise regular clients who are resistant to online booking to phone in advance during busy times.
Discover tips for building a successful barbershop website.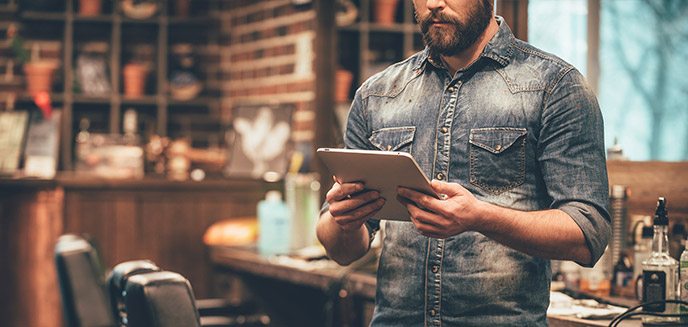 Attracting new barbershop clients
Online booking is a great way to attract new clients to your barbershop. NHBF Member Nick Mitchell of Alter Ego Hair Design in Colchester had a fantastic response almost immediately:
"I'd estimate that in the first week alone we've had about a dozen bookings through the site, of which maybe one or two have been existing clients but 80-90% have been new clients.
"Once they come in, you can, of course, show them what you can do and hopefully they will become a regular client."
Barbershop online booking: checklist
• Try a gradual transition to see if advance booking works for you.
• Offer online booking to stand out from the competition.
• Make the most of the latest booking technology.
• Look for free trials and features that match your needs.
• Take positive steps to manage walk-ins versus online bookings.
• Use online booking to attract new clients.
Join us!
Are you an NHBF Member? For less than 75p a day you'll have instant access to a wide range of additional benefits that offer incredible value for money. We'll help you boost your barbershop business while keeping you safe, legal and bang up to date with all the latest business legislation that will affect you. Benefits include:
• Our free friendly membership helpline for everyday business support.
• Free 24/7 legal helpline.
• Essential health & safety kits.
• Free tax and commercial helpline.
• Free Member-only in-depth guides about all aspects of running your barbershop.
• Savings and discounts on business essentials including insurance.