Are you making the most of Christmas? Check out our top tips for ensuring a fantastic festive season in your salon or barbershop.
Ian Egerton, owner of The Stress Exchange, London, and NHBF vice president, has three key pieces of advice: "Plan, plan, plan."
This means a bit more than dragging out last year's Christmas tree and hanging some tinsel over your mirrors. Christmas is a gift for hair and beauty salons and barbershops – so don't waste this once-a-year opportunity to give your business a serious boost.
This blog post covers:
Salon window display
"One of the biggest things I focus on is making my window as eye-catching as possible," says Mikaela Martin, co-owner of Spirit Hair Company which has salons in Oxfordshire and Buckinghamshire.
"I'm going to be really focused on catching footfall and bringing new passing trade into the salon. I always find it remarkable how many salons don't make an effort with their window at Christmas."
You can try a theme such as 'winter wonderland' or 'party time' and include some of your Christmas merchandise.
Make a special effort inside your salon or barbershop too. Everyone loves the colour and sparkle of festive decorations – give your clients that special Christmassy glow as they walk through your door.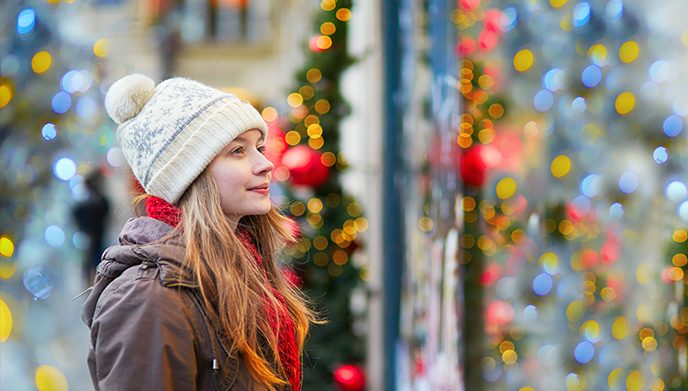 Festive events
"We always plan a Christmas client event for the end of November/beginning of December, where the local community are invited to browse and purchase products whilst sipping champagne," says Ian Egerton of The Stress Exchange.
"The event includes makeover consultations, nails, tips, hair-up and so on, everything to get prepared for that Christmas night out or party. It gives us an opportunity to highlight the services we have on offer over Christmas, so that clients will know well in advance."
Download our free in-depth guide to marketing your salon or barbershop.
Express hair and beauty services
"Clients, we're finding, are increasingly busy and time-poor," says Mikaela Martin of Spirit Hair Company. So, yes, while a party can be fun, a lot of people just don't have time for it. In fact, express services – a 30-minute quick styling between work and a Christmas party – will often be popular."
Gift vouchers
"We retail gift cards year-round; but Christmas sees a massive spike in gift card sales, so for this year we have designed a beautiful new presentation package to help boost sales further," says Ian Egerton of The Stress Exchange.
Also: don't forget to encourage your staff to mention gift cards while clients are in the chair, promote them in-salon with an eye-catching display, and spread the word via your website, social media and email marketing.
Did you know: NHBF Members can buy ready-to-use gift vouchers. Not yet a Member? Find out more and join today.
Nibbles and bubbly
Make your clients feel especially welcome with nibbles and a glass of complimentary bubbly as part of their Christmas appointment in your salon or barbershop.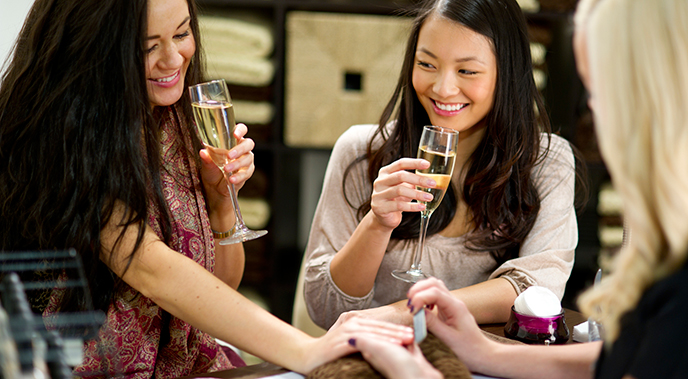 Your bubbly doesn't have to be alcoholic, but don't forget: If you want to serve alcoholic drinks at Christmas you must comply with licensing law - even if you offer them 'on the house'. Find out more in our blog post.
You will also have to ensure you buy your alcohol from a retailer approved by HM Revenue & Customs.*
Festive playlist
Refresh your salon or barbershop playlist on a regular basis so clients with long appointments – and your staff – won't have to listen to the same tracks again and again.
If you play music, show TV programmes, or offer Wi-Fi in your salon or barbershop you'll need to comply with the relevant laws and have the correct licences. Members only can download a free fact sheet on music, TV and Wi-Fi.
Retail products
"I always take photos or a quick video of our Christmas displays to use on social channels promoting our Christmas gifts," says Lorraine Scrivener, owner of Eden Skin Clinic in Kensington. "Odd numbers are more appealing to the eye than even numbers. So, when we display retail products we create groups of three, five or seven. Not two, four or eight.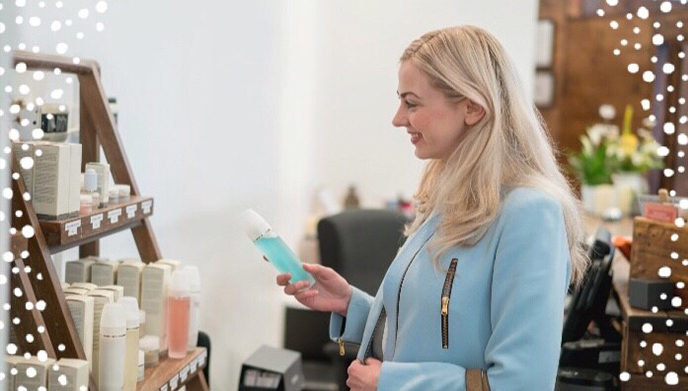 Mikaela Martin of Spirit Hair Company adds: "Other things we've found useful have been to offer free gift wrapping with retail purchases – men buying for their partners like this in particular. Just always, always, always take off the price tag!"
Additional Christmas retail tips from Alice Kirby at NHBF Trade Member Lockhart Meyer Salon Marketing include:
• Eye level is 'buy level': display your most profitable products between eye level and waist height which will maximise impulse buys.
• Price things clearly – many clients will be put off if they have to ask how much something costs.
• Make sure your festive product displays are well-lit.
• Have a basket of beautifully wrapped 'stocking filler' gifts at the till – perfect for impulse buys!
Find out how to make your staff retail savvy.
Social media
Don't forget to work your social media outlets and website! Share pictures of your window display, and festive decorations, as well as Christmas pressie suggestions, style ideas, and any last-minute appointments you might be able to squeeze in. Encourage your clients to take selfies of their special Christmas makeovers and share on your social media outlets. Find out more about making the most of social media and how to build a website for your salon or barbershop.
Don't forget your staff
Make things fun for your staff too! Make sure you schedule in at least one Christmas party for everyone to attend and involve everyone in your Christmas plans. Have a Christmas brainstorm and ask everyone for their ideas on how to make the most of the festive season. Discover how to keep your team happy and motivated.
Get clever with calendar marketing
Download our handy Marketing Calendar so you don't miss any opportunities to market your salon and barbershop by celebrating special days of the year.
Christmas checklist
• Create an eye-catching window display.
• Plan festive events.
• Offer express appointments.
• Promote your gift vouchers.
• Make your clients feel special with nibbles and bubbly.
• Regularly refresh your Christmas playlist.
• Take the opportunity to boost retail sales.
• Make the most of social media.
• Don't forget your staff.
Join us!
Are you an NHBF Member? For less than 80p a day you'll have access to a wide range of additional benefits that offer incredible value for money. We'll help you boost your business while keeping you safe, legal and bang up to date with all the latest business legislation that will affect you. Benefits include:
• Our friendly membership helpline for everyday business support.
• Free 24/7 legal helpline.
• Essential health & safety kits.
• Free tax and commercial helpline.
• Free Member-only in-depth guides about all aspects of running your business.
• Savings and discounts on business essentials.

* Check if your alcohol retailer is approved by HM Revenue & Customs.