7 April 2014
How have you found the first year of running your own salon?
The first ye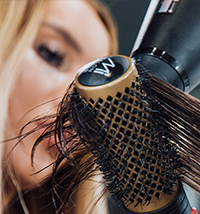 ar has been a bit of an uphill struggle. At the beginning I thought I was going to pass out with the fear and the responsibility. I naïvely thought that as soon as I opened the doors to my salon, the customers would pour in. I was so upset when practically no one came in the first week!
Previously I had worked in a salon where practically all the clients pre-booked. But my salon attracts younger customers who are more instinctive and often just walk in when they feel like getting their hair done.
A local florist told me that the first year of running your own place can take you the brink of despair and you wonder how you will survive.
We're learning from our mistakes, for example we spent thousands on advertising, but now realise that word of mouth is what really counts.
We are growing, but would like to be more successful.
What are your goals for the future?
Our primary goal is to grow. We have started offering Princess and Diva parties for children where they can get their hair and make-up done. We have already done a couple and they were very successful.
How does NHBF help you run your business?
I wouldn't have opened my salon without being an NHBF member. I have called them many times and find the team so helpful.
I use practically every aspect of the membership, such as the fact sheets, contracts, staff handbook and risk assessments.
I also use the NHBF calendars and the salon stationery including the consultant cards, first hair cut certificate and gift vouchers. It looks more professional and saves us the hassle of making our own.
Whenever I've cross-quoted, I've found that the NHBF deals save me money. The insurance I sourced via NHBF was cheaper than my previous supplier and more comprehensive (my new policy includes a colour test clause). And I also take advantage of NHBF's member rate for music licenses.
It's not enough to love hairdressing – to run a successful salon you also have to understand every aspect of running a business. I'm not a natural business woman and being able to rely on NHBF makes things so much easier.