20 November 2017
Last night, the NHBF hosted a fabulous event at the VOX conference centre in Birmingham to celebrate its 75th anniversary. The NHBF marked its milestone year with a glittering awards ceremony attended by more than 250 guests from some of the best businesses in the hair and beauty industry.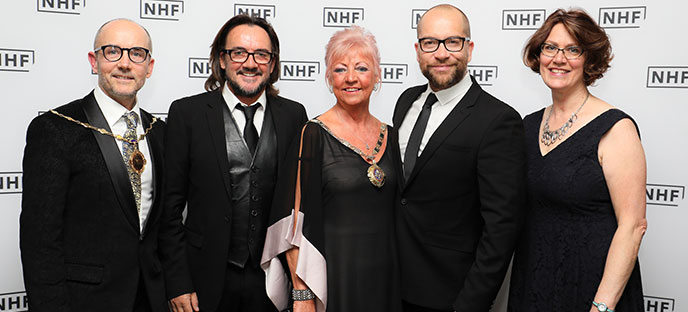 A run-down of the NHBF's 75th anniversary event
Guests attending the glitzy evening enjoyed a trip down memory lane as they watched on screen memorabilia showcasing key moments in the NHBF's history, before a dazzling display from magnificent LED drummers officially opened the event.
Joint NHBF ambassadors Hooker & Young then took to the stage to discuss their membership with the NHBF and how it has helped them run a successful portfolio of businesses.
Afterwards, the highly anticipated awards ceremony commenced for winners of the NHBF's first ever Business Awards and the prestigious Photographic Stylist of the Year competition to be crowned.
Alongside guests at the 75th anniversary event, the winners of the night headed to the dance floor to celebrate their success as a live band took centre stage.
NHBF President Agnes Leonard said: "There couldn't have been a better way to celebrate the NHBF's 75th anniversary than with some of the best businesses in our industry! It was fantastic to be able to recognise the success of the winners in such a phenomenal way.
"The NHBF has achieved great things over the past 75 years. Today we are stronger than ever as we continue to help our members build successful businesses. We're looking forward to the future and our next 75 years!"

For the full list of NHBF Business Award winners, visit: www.nhf.info/nhfbusinessawards
For the full list of Photographic Stylist of the year winners, visit: www.nhf.info/photographic