20 November 2017
On Sunday 19 November, stylists and barbers from across the country gathered at the VOX conference centre in Birmingham to compete in the NHBF's national floor competition, Britain's Best. There were ten categories in the renowned competition including the new 'Forties to Noughties' section created to mark the NHBF's 75th anniversary this year.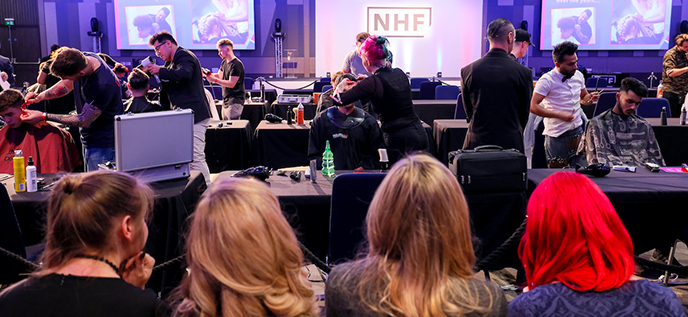 Britain's Best competitors
The competition tested the skills of the determined competitors as they worked against the clock to create an inspirational look to impress the panel of expert judges.
The winners of the NHBF's Britain's Best 2017 competition:
- Male fashion look – cut & finish (students and trainees) – Nina Kendrick, Emma Hellier Ltd
- Male fashion look – cut & finish (open to all) – Tariq Mehmood, Turf Impressions
- Female fashion look - cut & finish (open to all) – Wez Parry, Voodou Liverpool
- Forties to noughties (open to all) – Jade Davies & Alannah Watkins, Creations
- Barber – total look (open to all) – Joseph Cartmel, Cartmel Barbers
- Hair-up (students & trainees) – Becky Brown, Elizabeth & Giovanni's
- Hair-up (open to all) – Francesca Harmon, Abacus
- Most successful team of the day – Elizabeth & Giovanni's
- Model of the day – Wez Parry, Voodoo Liverpool
- Best prepared/conducted competitor – Giovanni Perri, Elizabeth & Giovanni's
NHBF president Agnes Leonard said: "Britain's Best is in its sixth year and continues to be a highlight in the calendars of stylists and barbers. This year did not disappoint - the level of talent from across the UK competing against each other for the top spot was outstanding. The day couldn't have been more inspiring, so we hope to see even more competitors hit the floor next year."
For further information on Britain's Best and to see the stylists and barbers who achieved second and third place in each category, please visit: www.nhf.info/britainsbest