Are you thinking of opening a barbershop? Is your existing barbershop struggling against the competition? Is your barbershop doing well, but you'd like it to do even better? Whatever stage you're at, it boils down to one thing: being bland just won't cut it: you need to create a buzz and stand out from the crowd.
This blog post covers:
Ban the bland: barbershop themes
Does your barbershop have a unique look and feel that makes it stand out from all the others in the area? Have you created an appealing decorative theme that will encourage more clients into your barbershop and keep them coming back?
Remember – you don't have to spend a fortune to get 'the look'. Choose a theme or look that will appeal to your main target market then ban the bland to boost your barbershop!
'Our shops have a strong "vintage" look and feel to them, which we find people love,' says Sam Prior, co-founder and creative director of the barbershop chain MR. Barbers, winners of the 'Best Group of Businesses 2017' in the NHBF's prestigious Business Awards. 'It's a mix of vintage and classic – a modern take on traditional as well as having a strong consistent colour scheme. People come to us in part because that look and feel – the whole experience – is so strong.
'What you're aiming for is a combination of 'wow factor' with a modern, well-equipped shop.'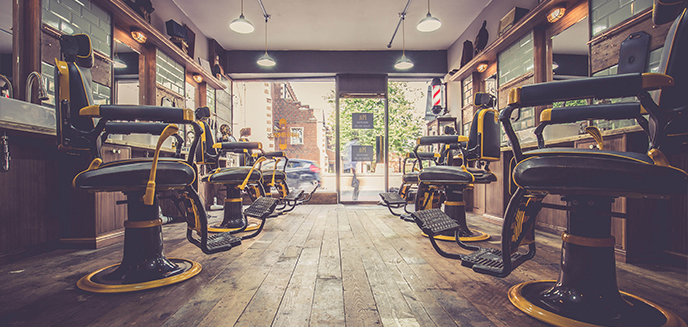 MR. Barbers in Cambridge: instantly recognisable.
While the vintage look is always popular, evoking a warm nostalgia for traditional old-school barbershop services, there are many other themes that have been successfully used in barbershops including, for example, sports. You can deck out your barbershop in the colours of a local sports team or go global and showcase famous moments in sporting history.
Always be authentic – if you hate sport, for example, choose a different theme that you're passionate about. Other barbershop ideas include a 'gentleman's club' look; a business theme for barbershops in or near a business district; a focus on film, music, theatre or books; an ultra-modern look; or décor that evokes a particular decade such as the seventies or eighties.
It's all in the detail ... distinctive 'dressing room' lights and striking stripy gowns.
Branding – be consistent
Make sure you have a memorable logo, typeface, and colour scheme associated with your barbershop. Along with the visual theme of your barbershop, consistent branding will strengthen your distinctive image and help you stand out against the competition.
'Ultimately, clients do notice and value these things,' says Sam Prior of MR. Barbers. 'You will always know you're coming into a MR. Barbers because of the grey shop front and the yellow 'MR.'
'Part of the reason clients come to us in the first place is because of the brand and because they recognise and like our brand. So it's really important to get it right.'
Is your barbershop easy to find online? Discover top tips to be included in key local listings.
Barbershop staff outfits
Complement your themed décor with matching staff outfits – for example traditional barbershop aprons in a retro setting, or American football shirts if you go for a sports theme.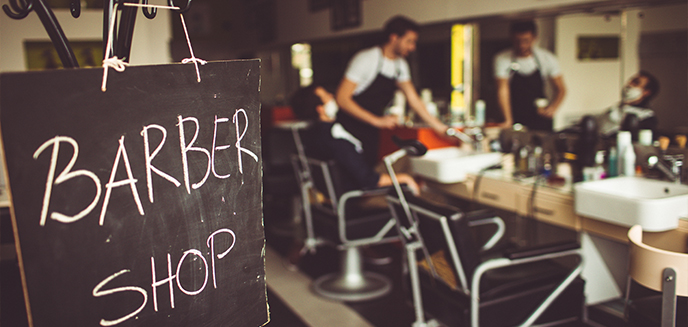 Online originality and website wow
Take time out to develop a strong social media presence. Don't spread yourself too thinly – be selective and ensure you post regular updates. Facebook, Twitter and Instagram are good starting points. Social media is a great way to keep your followers updated on special offers, the range of services you offer, last-minute appointments and general news from the team. Keep it fun and informal and don't miss opportunities to interact with your followers.
Find some top tips for making Twitter work for you and how to set up a social media policy.
Your website should reflect the look, feel and ethos of your barbershop with strong imagery and a clear layout. Make sure it's easy to navigate and includes essential information such as opening hours, contact details, list of services and prices.
Consider including some 'before and after' images as well as pictures or (even better) video clips of you and your staff at work. Take the opportunity to communicate your passion and commitment to top quality barbering and explain what makes you unique in comparison with the local competition.
Find out more about creating a website for your barbershop.
Barbershop loyalty card
Do you operate a loyalty card system? Loyalty cards (or apps) are a good way to encourage clients back to your barbershop. You can offer a free or reduced-price haircut after a set number of paid-for appointments.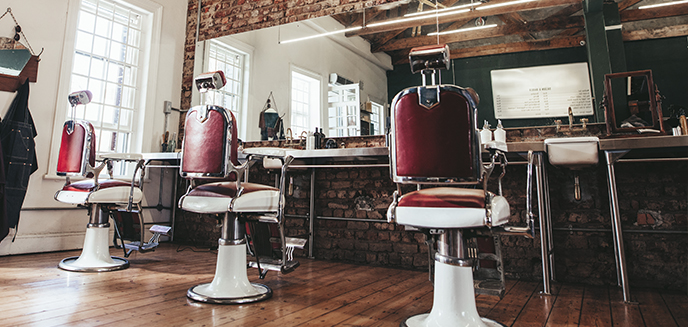 Offer online barbershop booking
Most barbershops tend to offer walk-in appointments only – but research carried out in 2017 by software firm Mojo and male grooming brand The Bluebeards Revenge found that more than half of male clients aged 18-24 said they would prefer to book online or via a booking app. Yet just 8% of barbershops polled said they offered online bookings. This means there's a great opportunity for you to stand out from the crowd and grow your client base.
David Looms, manager at Manchester-based Flanagan's Gents Hairdressing, found that online booking made a visible difference very quickly with the first two months being a great success:
"Our city centre barbers saw over 1,000 online bookings so the plan is to roll it out in the other shops. Online booking has given us the ability to fill up the quieter periods while two-way text messages have reduced no-shows."
Find out more about online and app booking on page 34 of our Sept/Oct 2017 issue of salonfocus.
Be unique
Suss out the competition in your area and consider offering speciality products and services that can't be found anywhere else in your local area. For example:
• Offer flexible opening hours so you're open when other local barbershops are closed.
• Offer services such as colouring, traditional shaves, skin and facial treatments, pedicures/manicures, or expert beard/moustache styling and trimming.
• Specialise in classic cuts or be known for setting the trend.
• Offer specialist products that complement your theme and can't be found locally – negotiate favourable terms with your chosen supplier.
• Provide small extras that can make a big difference, for example, good quality complimentary coffee.
NHBF Members can download our free guide to delivering an outstanding client experience.

Not yet a Member? Find out more and join us today.
Checklist
• Choose a distinctive theme for your barbershop.
• Make your branding memorable – and be consistent.
• Consider complementary outfits for your staff.
• Create a strong and appealing online presence.
• Introduce a loyalty scheme.
• Offer online booking.
• Be unique.
Join us!
Are you an NHBF Member? For less than 80p a day you'll have instant access to a wide range of additional benefits that offer incredible value for money. We'll help you boost your business while keeping you safe, legal and bang up to date with all the latest business legislation that will affect you. Benefits include:
• Our free friendly membership helpline for everyday business support.
• Free 24/7 legal helpline.
• Essential health & safety kits.
• Free tax and commercial helpline.
• Free Member-only in-depth guides about all aspects of running your barbershop.
• Savings and discounts on business essentials including insurance.