NHBF industry research and statistics 2020
The NHBF's annual industry statistics for 2020 are now available.
Our stats offer a valuable overview of the state of the hair, beauty and barbering industries in the UK, including success rates, turnover, start-up numbers, working patterns, apprenticeships, age, gender and industry trends.
Effect of the pandemic
It's important to note that these statistics do not reflect the events of 2020.
2020 has been a hugely difficult year for the hair and beauty industry due to the effects of the coronavirus pandemic. An NHBF survey shows that many salons and barbershop fear they will not be able to stay open beyond the end of this financial year in April 2021.
The full impact of the pandemic will become clearer when our 2021 statistics are compiled in November 2021.
Key findings for 2020 include:
The latest available figures (2018) show that the hair and beauty industry generated over £8 billion in turnover for the UK economy.
Barbers, beauty salons and nail salons were the top three retail categories that saw the highest growth.
The survival rates for hair and beauty businesses lasting one year, three years and five years have declined between 2015 and 2019.
60% of people who work in hairdressing and barbering are self-employed and in beauty 65% are self-employed.
The number of hairdressing and barbering apprenticeships in England continues to fall.
Members can download the full report free of charge. Non-members can buy the report for £250 inc. VAT. Please call 01234 831965 for more information.
Please acknowledge the NHBF and the data sources when using these statistics.
Official definitions of the hair and beauty industry include:
Hair washing, trimming and cutting, setting, dyeing, tinting, waving, straightening and similar activities for men and women, barbering, shaving and beard trimming, trichology, facial massage, manicure and pedicure, make-up, electrolysis and other beauty treatments, but not the manufacture of wigs.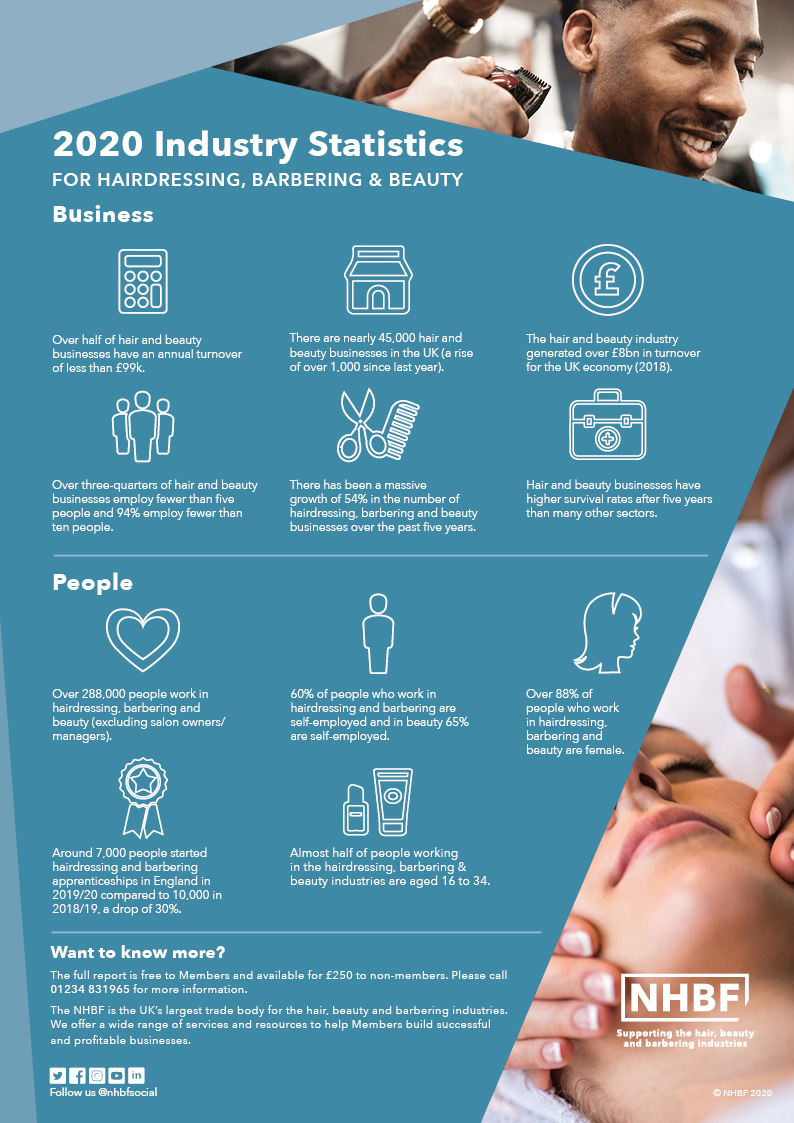 Campaigning for Members
We are committed to listening to our Members as part of our campaigning activity. We carry out regular surveys on key issues to ensure we understand your business priorities and can continue to represent your interests and influence government policy at the highest levels.
Find out more about our campaigning activity.