Industry research and statistics
The NHBF researches and publishes key industry statistics every year. These offer a valuable overview of the current state of the hair, beauty and barbering sector including success rates, turnover, start-up numbers, working patterns, age, gender and industry trends.
Key findings for 2019 included:
A sharp increase in the number of hair and beauty businesses, with growth particularly strong for beauty salons and barbershops.
Survival rates after five years for hair and beauty businesses combined are 10% higher than the average across all sectors.
Since 2015, the total number of people working in hair and beauty has dropped from 293,000 to just over 250,000.
There has been a slight growth in employment versus self-employment across hair, beauty and barbering.
The number of hairdressing and barbering apprenticeships in England continues to fall.
Want to know more? To get your copy of the booklet with more detailed statistics go here FREE to Members / non-members £250 (inc VAT)
Note: Please acknowledge the NHBF and the data sources when using these statistics.
Official definitions of the hair and beauty industry include:
Hair washing, trimming and cutting, setting, dyeing, tinting, waving, straightening and similar activities for men and women, barbering, shaving and beard trimming, trichology, facial massage, manicure and pedicure, make-up, electrolysis and other beauty treatments, but not the manufacture of wigs.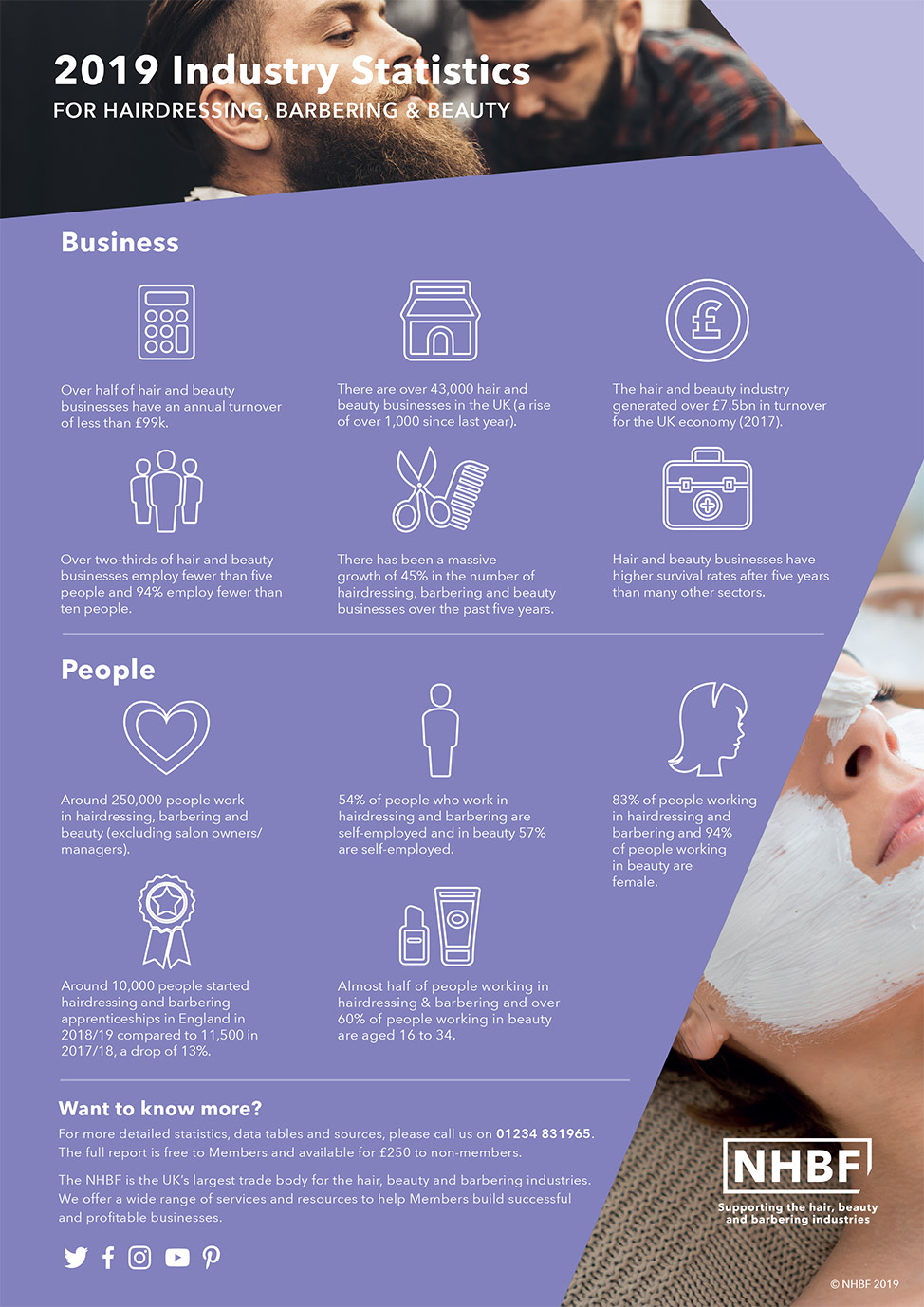 Listening to Members
We are committed to listening to our Members as part of our campaigning activity. We conduct regular surveys on key issues to ensure we understand our Members' business priorities and can continue to represent their interests and influence government policy at the highest levels.