Gaining new salon or barbershop clients is important – but make sure this isn't at the expense of your existing ones. Long-term loyal clients are the bedrock of your business – but you have to earn their continued custom, especially post-lockdown as client loyalty will have really been put to the test while you've been closed.
Find out how to keep your clients, if loyalty schemes can help, and how to make the most of your salon software.
This blog post covers:
Don't forget: GDPR means you cannot assume that it's OK to send out marketing messages (including appointment reminders and follow-up emails) to your clients. They have to give their prior permission, and you must keep a record of when and how they gave permission. Find out more.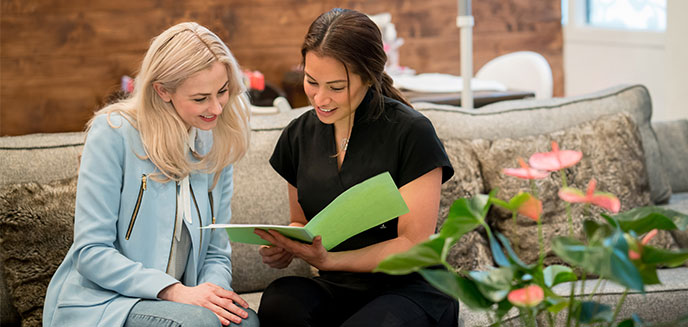 The value of customer loyalty
Sally Salon Services' Beautiful Britain Report (pre-pandemic) found that:
• Women now spend £994 on an average annual basket of treatments, up 13% (£118) from last year.
• Men now spend £779 on an annual basket of treatments, up 9% (£68) from last year.
These figures show just how important and valuable customer loyalty is. Losing even a single customer can be very costly financially. In addition, a lost client may also give your business negative reviews leading to the loss of more customers – whereas loyal customers will help to do your marketing for you through word-of-mouth recommendation. Always encourage your most loyal clients to leave positive feedback on social media and recommend you to their friends.
Find out what your clients really think
A good starting point is to find out what your clients think of your salon/barbershop and the services you provide. There are a few ways to do this, for example:
• Try a client questionnaire. keep the questions short and simple and hand it out to clients for about eight weeks. Explain it can be filled in anonymously, and don't look over their shoulder if they choose to fill it in while still in your salon or barbershop. After all, you want to get honest responses.
• Make a point of logging even minor complaints and grumbles. You can use this information to build an overall picture of your main weaknesses and take steps to address them.
• Check out Google, business listing sites, and your own social media accounts to see what clients are saying about you. Don't be disheartened if you find negative reviews. Instead, take steps to help prevent it happening again.
• Discreetly follow a client's journey during their appointment and try to see things through their eyes. Are they addressed by their name? Offered a drink? Are the magazines up to date? Were they kept waiting without explanation?
What drives customer loyalty?
The Beautiful Britain Report found that women value having a good relationship with their hair/beauty professional as more important than price in encouraging customer loyalty.
But based on hair and beauty industry statistics, client retention hovers below 50% and is even lower for new clients. So what can you do to create that 'special relationship' with each of your clients to maximise client loyalty?
Make your salon clients feel special
If you don't make your clients feel valued when they arrive for an appointment at your salon or barbershop, they won't value you and may start looking around to see what else is on offer locally. Below are a few key steps you can take to help prevent this from happening:
• Contact your client before their appointment to remind them about it (this will also help to reduce 'no-shows'). Tailor your messages: for existing clients say you are looking forward to seeing them again, while new clients can be sent a personalised welcome message.
When opening post-lockdown, you can take the opportunity to reassure your client about the measures you have taken to protect them during their appointment. Give them a step-by-step guide of what will happen during their visit so expectations are managed and there won't be any surprises or misunderstandings.
• Always do a consultation at the start of any appointment – even with longstanding clients. This will show new clients that you are professional, able to offer expert advice and keen to understand exactly what they want. Your longstanding clients will also appreciate a consultation before their appointment as it will demonstrate you are not taking them for granted. Bear in mind that clients may have completely different requirements following lockdown. Find out more about the importance of client consultations.
You will need to be extra vigilant when clients request hair colour services once your salon or barbershop is up and running again after lockdown. This is because they may have been using products at home while you were closed.
This also applies to beauty salons offering services such as eyebrow and eyelash tinting.

Make sure you and your staff understand that extra allergy alert tests may need to be carried out before going ahead with appointments. Find out how to set up a simple allergy alert testing system.
All the information you need for doing industry tests is in our NHBF consultation, allergy alert and industry tests toolkit for hair salons and barbershops which is free to NHBF Members (£4.50 P&P).
• Always try to personalise your service – make a mental note of comments clients have made during previous appointments about trying a different treatment or colour or where they are planning to go on holiday. You can then bring these topics into the conversation the next time they visit so they feel appreciated as an individual rather than just one of many clients.
• Make sure you involve all your staff in creating a great customer experience and encourage them to contribute new ideas and suggest different ways of working to encourage client loyalty. By valuing your staff in this way you'll create employee loyalty too!
Find out how to make your clients feel special and pampered as soon as they walk in the door.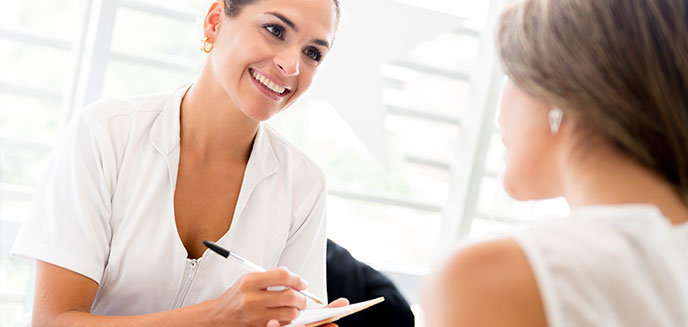 • Good goodbyes: Once the appointment is over there can be a temptation to leave your client at the cash desk and hurry off to your next client. Your client may then feel abandoned and this could undo all the good work you've already done to make them feel special.
Don't rush them out the door. Ask if they are happy with everything and make sure any discounts or special offers for future appointments have been offered and explained to them.
Encourage your client to make their next appointment before they leave the salon. Suggest a few dates that may suit them and mention that slots are already getting booked up.
With new high-value clients such as a first-time restyle and colour, encourage them back with, for example, a free conditioning treatment if they return for a repeat appointment.
If it's raining, ask someone to walk your client to their car with an umbrella. Small gestures like this mean a lot and will help to make your client feel valued and special.
• Appointment follow-ups: always send out a feedback request to your clients – including your most loyal clients. Make sure it's simple and fast to do – for example, simply ask if they're happy with their appointment and request a star rating of between one and five. Follow up negative feedback to sort things out as soon as possible – It's always possible to turn a negative into a positive.
• Make the most of salon software to increase client retention (see more on this below).
Good communications despite PPE
Good communication while wearing a face mask and/or visor - especially if your client is wearing a face mask too - is a little more difficult to achieve. Social distancing also rules out a welcoming hug or kiss on the cheek.
Smiling and using the client's name will help to overcome the barriers created by PPE - a genuine smile can be seen in the eyes. Good eye contact will also help, as will speaking extra clearly if wearing a mask and/or visor.
If a client is wearing a face mask it can more difficult to pick up on what they are thinking or feeling, but look out for fidgeting, talking very quickly or a stiff body which can be signs that your client is feeling worried or uncomfortable. Keep the conversation going to ensure your client is happy throughout the appointment - both with the health & safety procedures you have in place and the services or treatments you are providing.
Salon and barbershop loyalty schemes
Loyalty schemes are a great way to keep your hair and beauty clients coming back. Here are a few pointers on how to run a successful scheme:
• Keep your loyalty scheme simple, for example, a set amount of loyalty points per visit. Most people don't want to be bothered with anything too complex or difficult to understand. This will also mean less explaining for you – both to clients and employees who will also need to understand how it works.
• Publicise your loyalty scheme – display notices on your reception desk, in the waiting area, in treatment rooms, and at salon chairs. Make sure it's highlighted on your website and via your social media channels.
• Make sure your staff understand the loyalty scheme and feel confident 'selling' it to clients. Find out more about the importance of training in your beauty salon or salon/barbershop.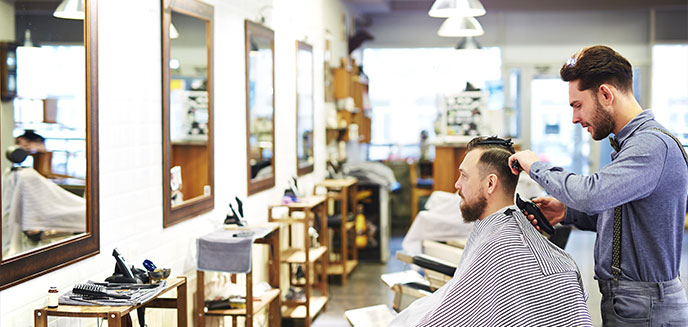 • Offer new clients a welcome pack with their loyalty card. This could include a money-off voucher for a third or fourth appointment and some product freebies from your retail range (ask your supplier if they can provide some complimentary samples for this purpose).
• Make sure you tailor rewards, otherwise you may find yourself giving away money unnecessarily. For example, a longstanding client who has regular appointments for more expensive treatments may put less value on saving money. Instead of a discounted appointment it could make more sense to offer them an additional service for free – one that they may be happy to pay for in future or recommend to someone else.
Regular but low-spending clients may be more appreciative of money-off appointments in return for their loyalty points.
• You'll need to decide if you want to give your clients physical loyalty cards, or if you want it to be entirely online, for example, via your salon software (see more on this below). Remember that a physical loyalty card or an eye-catching key fob card is a great daily reminder of your salon – making it harder for your clients to forget you!
Salon software and client loyalty
Salon software can be a great tool to help build client loyalty. Among many other features, it can be used to:
• Track employee performance and flag potential problems such as poor client retention.
• Send targeted messages and carry out automated marketing (but make sure you comply with GDPR).
• Provide a computerised diary and booking system to ensure clients are dealt with efficiently when they book appointments.
• Offer online booking for clients for maximum convenience.
You could also consider a call manager system to ensure all missed calls are picked up and responded to. Instead of hearing the engaged tone, your clients would be greeted with a professional message and a reassurance that they will be called straight back. Call manager systems can also divert calls to a mobile phone if your landline goes down.
Your software supplier will be able to offer updates and general advice to ensure your hair/beauty salon or barbershop complies with GDPR.
Discover our Trade Members who supply salon software including call manager systems.
Client loyalty checklist
• Understand the importance of client loyalty.
•Take steps to find out what your clients really think.
• Make your salon clients feel special.
• Always do consultations – even with longstanding clients.
• Ask for post-appointment feedback – and deal with any complaints straight away.
• Don't 'rush clients out the door' – aim to book them in again before they leave.
• Keep your loyalty scheme simple and publicise it well.
• Tailor loyalty scheme rewards to suit individual clients.
• Use salon software to make client retention easier and hassle-free – but don't forget the need to comply with GDPR.
More from the NHBF
Bookmark our website to make sure you're up to date with all the latest news, views, information and advice relating to the hair, beauty and barbering industry.
Simply register for free to download these in-depth expert guides:
• Starting up
• Salon software
• Apprenticeships
• Pensions
Read our brilliant blog posts to gain expert business insights into key hair, beauty and barbering issues.
Become an NHBF Member for less than 80p a day to take advantage of our range of additional support tools and services to help you grow a profitable business.
This post was updated on 30 March 2021.
You may also be interested in...
Data protection laws got tougher when GDPR came into force in 2018. Your hair/beauty salon or barbershop must understand and comply with additional data protection laws as set out in GDPR. NHBF Members can download our free in-depth guide and templates. Find out more.