National Receptionists' Day, which is celebrated internationally on the second Wednesday of May every year, is to be held on 11 May 2022.
The aim is to recognise and appreciate the contribution that receptionists make to the success of a business. Do you appreciate your salon or barbershop front-of-house team? And how can you help them make the most of their role and make a real difference to your bottom line?
This blog post covers:
The importance of excellent reception skills
Reception skills can make or break the customer experience, says Trade Member Angela Bartlett, managing director of Hidden Beauty Ltd.
"Whatever the size of your salon or barbershop, possibly the most important area of your business is the reception, both in terms of its physical appearance and the welcome it offers to clients.
"Front of house staff must be trained to ensure that the first point of contact with a client is nothing short of excellent," says Angela.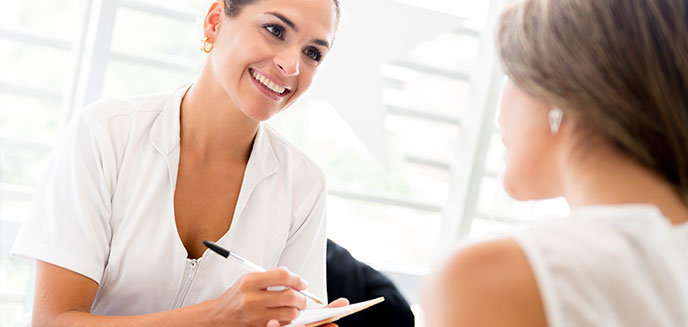 Setting the scene at your salon or barbershop
Your reception sets the scene for the client experience and should be the transitional area from the hustle and bustle of the outside world into the comfort of your salon where your client is happy to spend time.
"However, in many salons the reception is often very near the front door which can be draughty and an uncomfortable place to sit, especially in winter," says Angela. "To address this, see if you can re-think your reception space to give it a comfortable and inviting ambience."
Tips for reception design
Your reception is the first point of contact for your clients so it's important to get the design right. You will need to consider the following:
• The type of lighting that will work best for the 'mood' you want to create.
• The shape and size of your reception desk.
• How much storage space you'll need to reduce clutter in your reception area.
• The style of seating for your waiting area.
• Any special design touches you may wish to add to your reception area.
| | |
| --- | --- |
| | This free expert guide to salon design can be downloaded by NHBF Members only. Not yet a Member? Join us now. For less than 80p a day you'll have instant access to a wide range of benefits that offer incredible value for money. |
The 'less is more' rule
Unless you have a very large or extremely busy business the 'less is more' rule will apply when it comes to reception staff.
"It can be very disconcerting for clients and potential clients to be faced by too many staff at reception," says Angela. "This can be intimidating and off-putting for clients, especially if it is their first time in the salon."
Member case study: Kate Preston Salons
Great front-of-house skills lead to second salon …

Above:Kate and Liberty
Owner Kate Preston says that her salon director, Liberty Rock, who is responsible for front-of-house services at Kate Preston Salons, makes a massive difference to her business.
"We have seen growth in all areas of the salon including overall takings, retail takings, re-bookings, new clients and staff motivation," says Kate. "We have also seen our social media accounts grow since Libby has been working for the salon. We now have nearly 1,000 followers on Instagram, whereas before we had under 300."
As a result of this and the other marketing Libby does for the business, Kate Preston Salons has become so successful that it has opened a second salon to cope with the growing demands of both new and existing clients.
"Libby is an extremely motivated individual, always striving to achieve and continually developing herself and the business. I would like to thank her for all her hard work and effort in growing the salon and opening Kate Preston number two!"
Ensure a warm welcome to your salon or barbershop
"Staff demeanour at reception is critical and nothing makes a client feel more welcome than a warm and friendly smile," says Angela Bartlett of Hidden Beauty Ltd.
"Make sure your front-of-house staff make immediate eye contact with clients as soon as they enter your salon or barbershop. This is the beginning of the client journey and the first impression will often be the one they take away with them."
Find out to create a great client experience despite restrictions such as PPE and social distancing.
Those all-important touches
Attention to detail can make a big difference in your reception area:
Have fresh flowers on your reception desk.
Make sure the area is super-clean and uncluttered.
Until you can put out magazines and newspapers again, suggest to clients that they can use digital magazine providers on their own devices while waiting.
Have single-use colouring-in sheets if children visit your salon or barbershop. This will keep them entertained while waiting.
Don't forget: GDPR introduces strict data protection rules. Your receptionist will need to understand how to stay within the law: download our detailed Members-only guide to GDPR.

Not yet a Member? Join us now for less than 80p a day to access this user-friendly in-depth guide and make sure you are complying with GDPR.
Selling at your salon reception
Ensure your receptionist understands the range of products your salon or barbershop sells and the benefits they offer. If they know which products were used during an appointment they will also be in a good position to encourage your clients to buy them for use at home between appointments.
Keep a basket of irresistible impulse buys topped up at reception. These can be smaller items such as travel products or handbag essentials. Make sure they're clearly priced so clients can buy with confidence. You can also gift wrap a few to provide easy last-minute present ideas for busy clients.
Your receptionist can also help to sell gift cards to clients and promote your 'recommend a friend' scheme to encourage new clients into your salon or barbershop.
Read our blog post about how to make your salon and barbershop staff retail savvy.
Organising appointments
Make sure your receptionist understands the importance of using as much appointment time as possible. Lots of 15 or 30-minute gaps between appointments will add up to a significant amount of lost income over a year.
Saying goodbye
Your receptionist should be as skilled at saying goodbye as they are at welcoming your clients into the salon.
Make sure your clients are not rushed out of the door at the end of their appointments. Your receptionist should ask if your client is happy with everything before asking for payment. They should also encourage your client to make their next appointment before leaving (no harm in mentioning that slots are already getting booked up), and make sure your clients know about any special offers or discounts they may be entitled to.
Your receptionist can also encourage your clients to leave positive online reviews, recommend a friend, and follow your social media accounts.
Read our blog post about how to inspire loyalty in your salon clients.
Dealing with complaints
Make sure your receptionist is familiar with your complaints policy and knows how to react if one of your clients complains at the end of their appointment.
Read our blog post about turning complaints into compliments.
Recognise and reward your receptionist's contribution
Make sure you appreciate the contribution your receptionist makes to the success of your business. You could set up a bonus scheme to reward them for meeting certain targets, for example, reducing wasted appointment time, securing repeat appointments, and retail sales.
Checklist
Your front-of-house staff can make a huge difference to your bottom line.
Make sure you train your receptionist properly and they know what's expected of them.
Create an attractive and welcoming reception area.
'Less is more' – don't have too many staff at reception.
Ensure a warm welcome with a smile and good eye contact.
Pay attention to detail with small touches that make a big difference.
Recognise and reward your receptionist's contribution to boosting your bottom line, for example, increasing retail sales and efficient use of appointment slots.
Make sure they know how to react to complaints.
More from the NHBF
Bookmark our website to make sure you're up to date with all the latest news, views, information and advice relating to the hair, beauty and barbering industry.
Simply register for free to download these in-depth expert guides:
Starting up
Salon software
Apprenticeships
Read our brilliant blog posts to gain expert business insights into key hair, beauty and barbering issues.
Become an NHBF Member for less than 80p a day to take advantage of our range of additional support tools and services to help you grow a profitable business.
You may also be interested in...
NHBF Members benefit from free employment contracts, staff handbooks and apprenticeship agreements. Find out what's available.