When lockdown is lifted, follow the top tips below to ensure your clients enjoy a great visit to your salon or barbershop despite the challenging restrictions that may remain in place.
This blog post covers:
Reassure your clients in advance
Contact your client in advance of their appointment to reassure them about the measures you have taken to protect them while they are in your salon or barbershop. Give them a step-by-step guide of what will happen during their visit so expectations are managed and there won't be any surprises or misunderstandings. Ask if they have any concerns about their visit so you can address any fears they may have about their forthcoming appointment.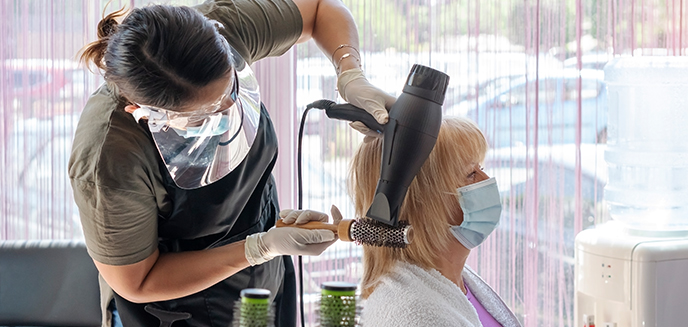 Make first impressions count
This is crucial to a great client experience. Your reception sets the scene for the client experience and should be the transitional area from the hustle and bustle of the outside world into the comfort of your salon or barbershop where your client is happy to spend time. A warm welcome and using the client's name will make a big difference to how they feel on arrival.
Your reception team should also be able to calmly explain the extra safety measures you have in place at the current time and be ready to answer any questions. This will inspire confidence and help your client to relax. Find out more about the importance of excellent client reception skills and how to make the most of your reception area.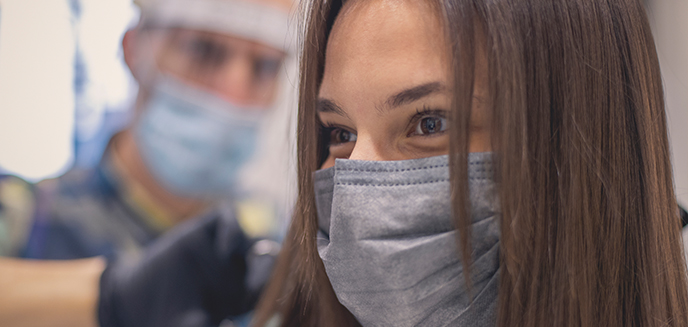 Good communications despite PPE
Good communication while wearing a face mask and/or visor - especially if your client is wearing a face mask too - is a little more difficult to achieve. Social distancing also rules out a welcoming hug or kiss on the cheek.
Smiling and using the client's name will help to overcome the barriers created by PPE - a genuine smile can be seen in the eyes. Good eye contact will also help, as will speaking extra clearly if wearing a mask and/or visor.
If a client is wearing a face covering it can more difficult to pick up on what they are thinking or feeling, but look out for fidgeting, talking very quickly or a stiff body which can be signs that your client is feeling worried or uncomfortable. Keep the conversation going to ensure your client is happy throughout the appointment - both with the health & safety procedures you have in place and the services or treatments you are providing.
Carry out a thorough consultation
This can be done in advance online or over the phone. Online consultations may be particularly suitable for clients who have hearing difficulties and might find face-to-face consultations difficult if you are wearing a face mask and/or visor.
You may not have seen your client for a while, so book extra time to make sure you understand their needs and expectations and to ensure any necessary client health care questionnaires and allergy alert tests are up to date.
Don't take your client for granted and never assume they want the 'same again' – or they may be tempted to go somewhere new to try a different treatment or style rather than waiting for you to take an interest in them again. Consultations with existing clients should be as thorough as those with new clients. Listen to their ideas then add your own – something new may be just want they need to lift their spirits at the current time.
In addition, you'll want to turn every new client into a long-term one and first impressions will make a huge difference. A warm welcome and detailed consultation (whether online or in person) is a key first step for long-term loyalty. This will show new clients that you are professional, able to offer expert advice and keen to understand exactly what they want.
Your client may also want reassurance that the treatment or service they want to have is safe. Always take their concerns seriously - don't let them think that it may be safer or easier to go elsewhere. Find out more about client consultations.
Always show genuine interest in your clients
Make a mental note of previous conversations you've had with clients, for example, family news or new treatments or services they have been thinking about trying. You can then 'pick up where you left off' at their next appointment. This will help your client feel valued and appreciated as an individual rather than just another client. While the coronavirus outbreak continues, it's important to build and maintain your clients' trust and to do all you can to support their emotional welfare too.
| | |
| --- | --- |
| | Discover how to deliver an outstanding client experience in our free guide for Members only. |
Don't rush your client out the door
Even at the current time when you have to clean and sanitise between appointments and it may be tempting to speed up the 'one in, one out' system. Always ask your client if they are happy with everything, make sure they know about any special offers that are coming up and encourage them to make their next appointment before leaving. Offer new high-value clients a free or discounted extra treatment or product on their next visit.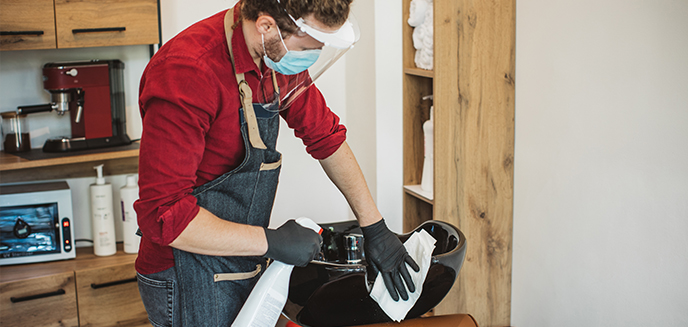 Handle complaints professionally
Take complaints seriously, stay calm and listen carefully. If you handle a complaint well, you may be able to turn things around and transform an unhappy client back into a 'loyal champion' for your business. Find out more about dealing with complaints.
Our free guide to handling complaints is available to NHBF Members only.

Not yet a Member? Join now for less than 80p a day.
Make sure you comply with the latest guidelines
Keep up to date with all the latest government guidelines and make sure you have all the correct measures in place to protect your clients and staff.
Find out more in our blog post.
Please note:
Failure to complete a risk assessment which takes account of COVID-19, or completing a risk assessment but failing to put in place sufficient measures to manage the risk of COVID-19, could constitute a breach of health and safety law. The actions the enforcing authority can take include the provision of specific advice to employers to support them to achieve the required standard, through to issuing enforcement notices to help secure improvements. Serious breaches and failure to comply with enforcement notices can constitute a criminal offence, with serious fines and even imprisonment for up to two years. There is also a wider system of enforcement, which includes specific obligations and conditions for licensed premises.
Checklist
Reassure your clients in advance so they know what to expect.
Make first impressions count to ensure your clients receive a warm and reassuring welcome.
Carry out a thorough consultation with both existing and new clients.
Show genuine interest in your clients so they feel special and valued as an individual.
Don't rush clients out the door, even though it may be tempting when you have to clean and sanitise between appointments.
Handle complaints professionally – you may be able to turn things around and transform an unhappy client back into a loyal client.
Make sure you comply with all the latest guidelines - don't risk fines or prison.
This post was updated on 18 February 2021.