Many hairdressers, barbers, and beauty therapists enjoy the independence and better work/life balance that comes with working as a self-employed chair, space, or room renter with your own client list. However, there are drawbacks, and you should be aware of them before transitioning from employment to self-employment.
This blog post covers:

What is chair/room renting?
If you rent a chair, space or room in a salon or barbershop you will be classed as a self-employed person running your own business. Your self-employed business will be completely separate from the salon or barbershop you are working in.
The benefits
As a self-employed stylist, beauty therapist or barber you will be your own boss and have your own clients. This means you can choose your own hours of work, take time off when you want, and make your own decisions about which services you offer and the prices you charge.
What else do you need to consider?
Make sure you understand everything that's involved in running your own business. For example, it's great that you can take annual leave when you like – but you won't get paid holiday. And if you're off sick, you won't be entitled to Statutory Sick Pay. Will you be able to cope financially if you need to take time off sick?
You'll also need to:
Keep your own accurate business accounts, declare your earnings and pay taxes.
Take out your own business insurance.
Make your own pension arrangements.
Deal with any complaints made by your clients and any legal action taken against you.
This is not an exhaustive list, so always get professional advice.

Make sure you have a contract
As a self-employed chair, space or room renter, you must have a legally watertight contract in place, signed and dated by you and the salon or barbershop owner. This will help to avoid disputes and expensive legal action if things don't work out in the future.
The contract should set out how the renting agreement will work in detail, for example, how much you will pay the salon or barbershop owner and when, what you will get in return, and how long the renting agreement will last for. NHBF Members can download free chair, space and room renting agreements.
It's also a good idea to include a three-month notice period so you can legally end the agreement if it doesn't work out.
Scottish law
Under Scottish law, contracts between chair/room renters and salon/barbershop leaseholders may need to cover points of law that don't apply in England and Wales. The NHBF provides chair and room renting agreements for use in Scotland.
Working out how much you'll pay
Make sure you understand how much rent you will have to pay and how it is calculated. This should be included in your contract.
There are three options:
Option one: you pay a fixed weekly or monthly rent (known as the 'licence fee').
Option two: you pay an agreed percentage of your takings (known as the 'service charge').
Option three: a combination of options one and two.
You and the salon/barbershop owner will need to decide which option is best for you both.
Our expert guide, for NHBF Members only, explains these options in detail including the calculations you will need to make. Alternatively, get professional advice before making a decision.
GDPR
As a self-employed hairdresser, barber or beauty therapist you must comply with GDPR which sets out strict new data protection rules. NHBF Members can download our detailed guide to GDPR and templates.
Download our detailed Members-only guide to GDPR.

Download our GDPR toolkit which includes templates to help you comply with GDPR.

Not yet a Member? Join us now for less than 80p a day to access this user-friendly in-depth guide and make sure you are complying with GDPR.
Employment status
There have been a number of high profile court cases involving companies such as Uber, Deliveroo, Pimlico Plumbers and parcel delivery companies to decide whether the people working for them are genuinely self-employed, workers or employees.
Self-employed people have no employment rights, but workers are entitled to receive holiday pay and minimum wages, while employees have a much wider range of rights including maternity/paternity pay and statutory redundancy pay.
The government is carrying out consultations to develop criteria which will clearly define who is self-employed, who is a worker and who is an employee. Any changes may affect whether chair, space and room renters continue to be classified as self-employed.
The NHBF will keep Members fully informed of any changes made by the government. Keep an eye on our news page and subscribe to our newsletter for all the latest information.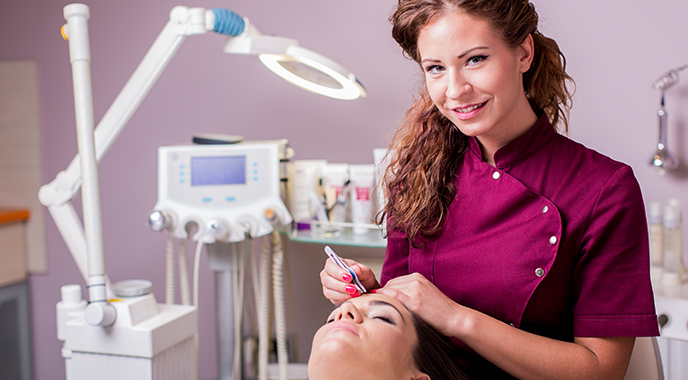 Checklist
Being self-employed can offer a great work/life balance.
Do your research to make sure it's right for you. NHBF Members can read our guide to chair renting vs employing people.
Remember: you won't get Statutory Sick Pay or holiday pay.
You'll have to register with HMRC, keep accurate accounts and pay your tax on time.
You'll need to organise business insurance and your own pension.
You must have a legally watertight contract with the salon or barbershop. Members can download free contracts from the NHBF shop.
Don't forget – you must comply with GDPR.
The NHBF is here for you
Don't do it alone: if you plan to work as a self-employed chair, space or room renter, join the NHBF and you'll always have someone to turn to for help, information and advice. This includes crucial legal support, free chair renting agreements, insurance discounts, and free information on tax and VAT from our commercial helpline. Find out more and join us today: www.nhf.info