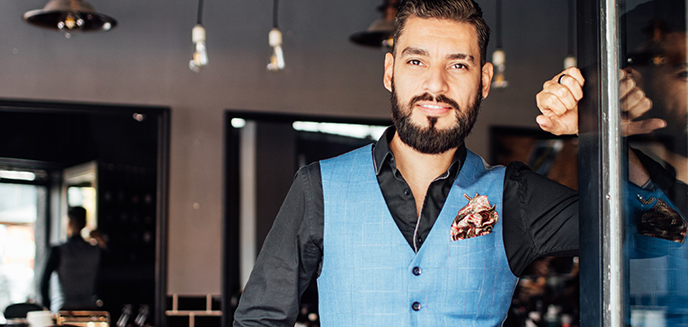 Why should you become a Member?
Being part of the NHBF means joining a big family. Not only do you unlock a world of incredible benefits that will transform your business, we will guide you through the labyrinth of legalities, ensuring you stay on the right side of the law, give you the tools to fuel your business growth and boost those profits. And the best part? All of this comes at an amazing price of less than 80p a day. It's a small and very important investment that yields big rewards. Come and join us – you know you want to!
Am I eligible to join the NHBF?
We have a welcoming embrace waiting for a diverse range of businesses! If you own or work in a hair salon, beauty salon, hair and beauty salon, barbershop, self-employed chair, space or room renter, or even a group of hair or beauty businesses, we're here with open arms to offer you the support and advice you deserve. Don't hesitate to join our vibrant community and let's embark on an exciting journey together!
How much does it cost to join?
Prices vary based on your business model, but you'll be delighted to know that it's a steal! For less than 80p a day, you can gain access to a treasure trove of advantages that will benefit your business. You can set up a monthly Direct Debit so you won't need to worry about lump sum payments or your membership running out when it comes to renewing. It's an incredible value that ensures you get the most out of your investment. So, don't wait any longer—seize this opportunity and start enjoying the incredible benefits today!
I'm ready to sign, how do I join?
Joining NHBF is a breeze! To become a member, you have two convenient options. You can simply hop online and join us right here, right now, with just a few clicks. Alternatively, if you prefer a more personal touch, give us a call at 01234 831965, and our friendly team will guide you through the process. Whichever way you choose, we can't wait to welcome you into the NHBF family and start providing you with the support and benefits you need to run a successful business – we do all the paperwork so you can spend more time with your clients!
I've got a discount code but it doesn't work
Oh no, it seems like there's a hiccup with your discount code! Don't worry, though, because we're here to help. Give us a call on 01234 831965, and our friendly team will be more than happy to assist you in resolving this issue. We'll work our magic and make sure you get the discount you deserve. Your satisfaction is our top priority, so reach out to us and let's get everything sorted out swiftly and smoothly!
Can I pay my membership fee in instalments?
Yes, if you're joining as a salon or group Member, we've got a convenient payment option just for you. You can pay monthly by Direct Debit, making it easy to manage your finances. We want to make the process as seamless as possible, so choose the option that suits you best, and let's get started on this exciting journey together!
I have joined but I haven't received my membership welcome pack
We're sorry to hear that your membership welcome pack hasn't reached you yet. Rest assured, it should be on its way to you shortly. However, if it hasn't arrived within seven working days, we're here to assist you. Simply give us a call at 01234 831965, and our friendly membership team will promptly look into the matter for you. We want to make sure you have all the information and resources you need, so don't hesitate to reach out. We'll take care of everything and ensure you receive your welcome pack without any further delay!
I've misplaced my membership number
No worries, we've got you covered! If you can't seem to locate your membership number, simply reach out to our helpful membership team at 01234 831965. They can retrieve your details on our system using your postcode. So, give them a call, and they'll swiftly assist you in finding your membership number, ensuring you have all the information you need to fully enjoy your NHBF membership. We're here to make things easy for you, so don't hesitate to reach out and let us help you get back on track!
I've forgotten my password, how do I reset it?
Oops, forgotten your password? No problem at all! We've got a simple solution for you. Just head over to the login page on our website and look for the "Forgotten your password?" link. Click on it, and we'll guide you through the process of resetting your password. It's a breeze, and before you know it, you'll be back in action, ready to access all the amazing features and benefits that await you.
Can I add colleagues' names to my membership account?
Absolutely! We understand the importance of having your colleagues on board, and we're here to help. If you'd like to add the names of your colleagues to your membership account, our dedicated membership team is just a phone call away. Give us a ring at 01234 831965, and we'll be more than happy to assist you in adding another name to your account. We believe in the power of collaboration and teamwork, so let's make sure everyone is included and ready to make the most of their NHBF membership. Reach out to us today, and let's take care of the details together!
When is the membership team available?
You can call the membership team 9-5, Monday-Friday, on 01234 831965.
Can I use the legal helpline and other benefits straightaway after joining?
Absolutely! As soon as you join, you'll gain immediate access to our extensive range of Member benefits that are designed to enhance your experience. It's our way of ensuring you receive the utmost value from your membership right from the start. However, we'd like to inform you that for legal expenses insurance, there is a waiting period of 60 days before you can claim (unless you can demonstrate that you had a comparable insurance policy before joining the NHBF). We encourage you to explore more about our legal cover and its benefits. We're committed to providing you with comprehensive support and perks, so join us today to help keep your business safe from any legal action.
How do I contact the legal team?
We've got you covered when it comes to getting the right help at the right time. During our office hours, from 9AM to 5PM, Monday to Friday, your first point of contact should be our amazing membership team at 01234 831965. They're equipped to assist you with a wide range of issues and are likely to be able to help you right away. However, if you require legal advice outside of these hours, don't worry – we have a solution for that too! Simply listen to our recorded telephone message or visit your membership page after logging in, and you'll find the contact information for our legal helpline. We're dedicated to ensuring you have access to the support you need, whenever you need it. Trust us to guide you through any situation, day or night!
Can I cancel my membership?
We understand that circumstances can change, and if you pay in monthly instalments, it's important to note that you must continue paying for the full year. However, once you have completed the full payment of your membership fee at the end of the year, you are eligible to cancel your membership. We want to ensure transparency and provide you with all the necessary details, so we encourage you to read the full terms and conditions, which can be found here. We value your membership and are here to support you throughout your journey, but we also respect your choices. Please review the terms and conditions to make an informed decision.