You want to offer your salon or barbershop clients maximum convenience when it comes to paying for services and products at your hair/beauty salon or barbershop. Paying by card remains hugely popular and contactless payments are also widespread. So where do you start? And – crucially – are you aware of payment law?
This blog post covers:
Know the law
The law says you cannot charge your clients extra for paying by credit card, debit card or via methods such as PayPal.
This applies to all businesses that accept card payments including hair/beauty salons and barbershops.
But you can still charge more for payments made in instalments as long as the extra charge applies to all payment methods.
What you can do
This means you have to absorb all the costs of offering card payments to your clients. To help reduce costs you can:
• Stop accepting some payment methods.
• Increase your prices to help cover the cost (these prices must apply to all clients whichever payment method they use).
• Negotiate lower fees with your financial services provider.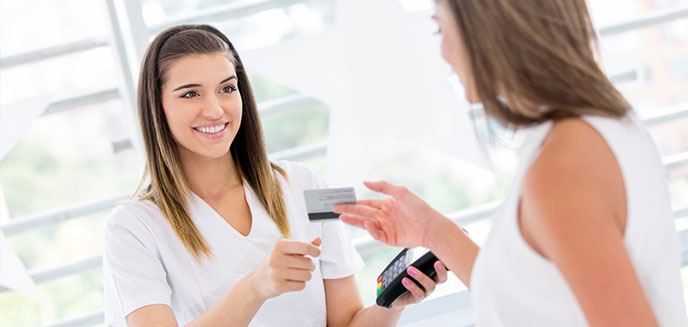 Open a merchant account
To accept payments by card, you will need a merchant account. This works as a link between your card machine and your bank account. Payments will be go into your account by BACS typically within three working days. Ask your bank for advice but also shop around to compare transaction costs. Find out more about choosing the best bank account for you.
Choose your card machine
You can buy a terminal outright to avoid rental costs. However, for most businesses a monthly rental charge is far more cost effective. Rental costs depend on annual turnover and type of card machine.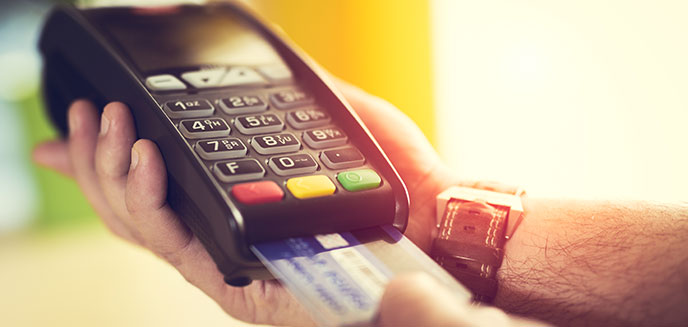 You will need to choose the type of card machine that is right for your business:
Countertop or fixed machines
Countertop card machines are a fast, easy and reliable way to accept card payments. You will need a telephone or broadband connection.
Portable machines
If your business has a fixed communication line (such as a phone or broadband connection), a portable card machine will give you greater flexibility. The terminal can be used anywhere within its 100-metre range allowing clients to pay in their chair:
• Optional tipping.
• Bluetooth connectivity.
• Ideal for indoor and outdoor use.
Wi-Fi machines
A Wi-Fi card machine can be removed from its charger and used anywhere in reach of your Wi-Fi signal. It can also be used outside your business wherever there's a Wi-Fi signal:
• Pay-at-chair functionality.
• Optional tipping.
• Contactless (see more on contactless below).
Mobile card machines
A mobile card machine will enable your business to accept card payments anywhere within the UK and abroad. They're ideal if your business needs to accept cards on the move and can be used indoors or outdoors.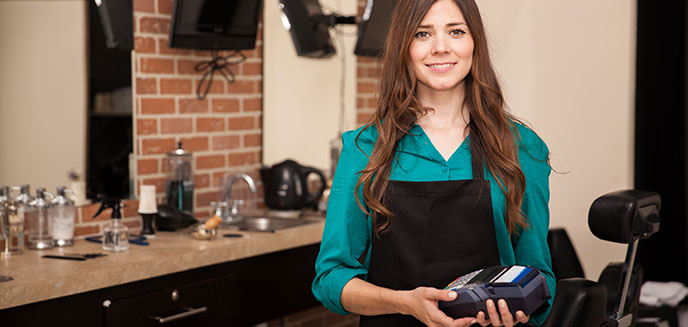 Contactless payments
Contactless payments are great for payments of under £30 – but what about those more expensive hair, beauty and grooming services and products?
"Digital wallets (also known as e-wallets) such as ApplePay, SamsungPay and AndroidPay are also contactless, but have no transaction limit and are becoming increasingly popular," says Nigel Hyslop of NHBF Trade Member Global Payments.
PS: Did you know: Your payment machine must be able to accept contactless payments by January 2020.
Card payment Checklist
• Stay legal: don't charge extra for card payments.
• You'll need a merchant account for card payments.
• Choose a payment machine that best suits your needs.
• Get a great deal from NHBF Trade Member Global Payments.
Join us!
Are you an NHBF Member? For less than 75p a day you'll have instant access to a wide range of additional benefits that offer incredible value for money. This includes a special offer on card payments from our NHBF Trade Member Global Payments, including no sign-up fees, free card machine hire for three months, and preferential rates.
The NHBF will help you boost your business while keeping you safe, legal and bang up to date with all the latest business legislation that will affect you. Benefits include:
• Our friendly membership helpline for everyday business support.
• Free 24/7 legal helpline.
• Essential health & safety kits.
• Free tax and commercial helpline.
• Free Member-only in-depth guides about all aspects of running your business.
• Savings and discounts on business essentials including insurance.
* These new laws are set out in The Consumer Rights (Payment Surcharges) Regulations 2012. Download the pdf.