May 2021 is National Skin Cancer Awareness Month and we will be supporting the charity Skcin to help raise awareness.
Since the early 1990s rates of non-melanoma skin cancer have risen by 166% in the UK with cases expected to reach almost 400,000 by 2025.
The incidence of melanoma (the deadliest form of skin cancer) has risen faster than any other common cancer in the UK. According to Cancer Research UK, 1 in 36 males and 1 in 47 females will be diagnosed with melanoma during their lifetime and it is one of the biggest killing cancers in the 15-34 age group.
Hairdressers, beauty therapists and barbers can play a key role in helping to spot the early signs of skin cancer - and perhaps even lung cancer. But how do you know what to look for and what other advice can you offer?
NHBF Members can login to view our webinar on spotting the signs of skin cancer.
This blog post covers:
What is skin cancer?
The most common types of skin cancer are called 'non-melanoma'. The first sign of non-melanoma is usually a persistent lump or discoloured patch on the skin.
The less common type of skin cancer is called 'melanoma', which can be life-threatening. The most common sign of melanoma is the appearance of a new mole or change in an existing mole.
Most skin cancer is caused by ultraviolet (UV) light damaging DNA in skin cells. The main source of UV light is the sun. The NHS warns thatsunbed use also increases the risk of developing skin cancer.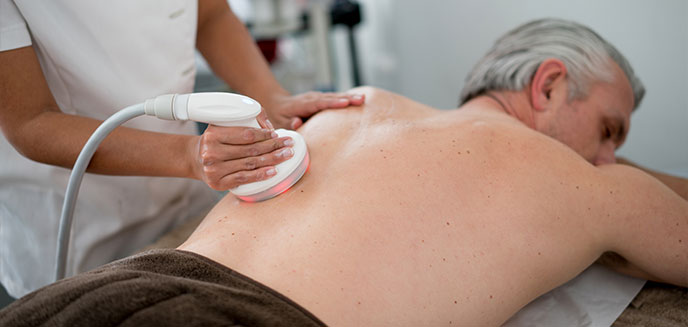 Increase in skin cancer cases
Nearly a quarter of Brits have never checked themselves for skin cancer, according to new research by skin checking app Miiskin, which has joined forces with the British Skin Foundation on a new campaign.
According to the British Skin Foundation, skin cancer in Britain is on the rise, with more than 100,000 new cases diagnosed annually and 2,500 deaths from the disease every year. Government statistics show a 35.8% ten-year rise in skin cancer deaths.
Find out more on the Professional Beauty website.
"Hero hairdresser saves 54-year-old driving instructor's life after spotting a lump on his head during a trim that turned out to be cancer"
Which salon or barbershop clients are at risk?
"It's best practice to assume that everyone is at risk of developing skin cancer, so you should always be on the lookout for signs," advises NHBF Trade Member TrichoCare Education. However, bear in mind that some clients may be more prone to developing skin cancer than others, including:
• Those who have lots of holidays in the sun.
• Clients who use sunbeds.
• Clients with fairer skins and/or a large number of freckles.
• Men with bald patches or thinning hair.
• Women with fine or thinning hair.
• Clients who work outdoors.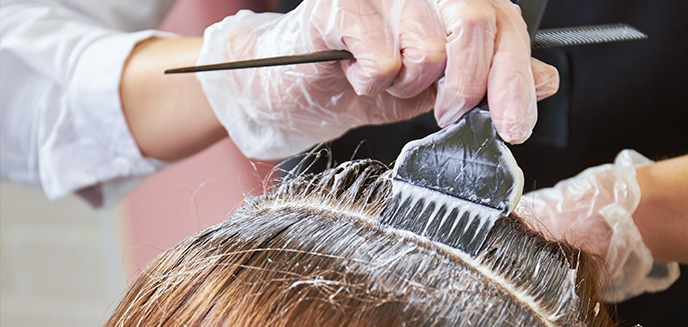 Is skin cancer risk linked to skin colour?
Everyone is at risk of skin cancer.
We all have varying skin colours that respond differently to the sun. However, everyone, regardless of skin colour, can burn and accumulate sun damage, so we are all at risk.
Those with fairer skin tend to burn more easily and are at greater risk of skin cancer. The more we tan or burn, the greater our individual risk of developing skin cancer.
People with paler skins are the primary victims of skin cancer but everyone, regardless of skin colour, can develop it. It is a common misunderstanding that people with darker skin colours are immune.
Where should I look?
Key places to look for possible problems include:
• The top of the head.
• On and behind the ears.
• The back of the neck and shoulders.
• The face including the nose and cheeks.
Most skin cancers, if detected early, are almost always curable.
Be extra observant when checking those areas that clients can't easily see for themselves. However, don't ignore potential problems on more obvious areas of the skin. Sometimes changes caused by skin cancer can appear slowly and your client may not notice what is happening.
Most skin cancers, if detected early, are almost always curable.
What should I look for?
Look for anything out of the ordinary. With regular salon or barbershop clients, you may notice:
• A new mole, growth or sore that doesn't heal.
• A change in the colour or size of a mole.
• A red swelling that may bleed a little.
• A mole or growth that bleeds, crusts or scabs.
The early signs of skin cancer can be hard to recognise so it's a good idea to know what skin cancers can look like. The most common sign of skin cancer is a change to a mole, freckle or normal patch of skin. You can see some examples on the NHS website. You can also see examples of moles that might be a cause for concern.
'Finger clubbing' and lung cancer
Finger clubbing is unusual and may be a sign of lung cancer or some other underlying health condition. The symptoms include:
The base of the nail (nail bed) becomes soft and the skin next to the nail bed becomes shiny.
The nails then curve more than normal when looked at from the side.
The ends of the fingers may then get larger.
Find out more on the Cancer Research UK website.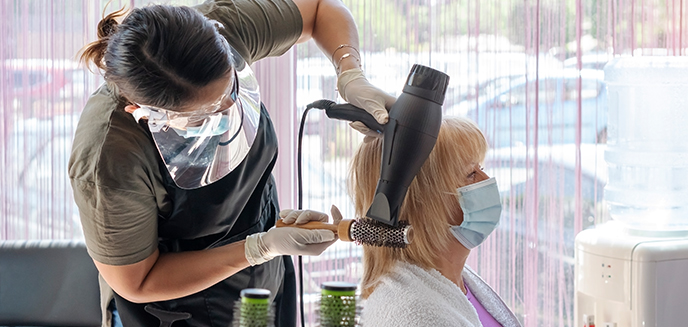 What if I spot something on my salon or barbershop client?
Tell your client if you spot anything.
It's crucial to tell your client if you spot anything that may potentially be skin cancer. But don't alarm or worry them, as it's just as likely to be nothing.
If you're concerned about something you see on a client's skin or scalp, advise them to get it checked out by their GP to remove any doubt.
Advise salon and barbershop clients on sun protection
Most hair professionals will know that the sun – especially mixed with sea and swimming pool water, can have a drying and damaging effect on hair and will suggest hair protection products.
But hairdressers and barbers need to be aware that the sun (and sunbeds) can cause far more serious damage to the scalp and skin. Advise your clients to:
• Avoid getting sunburn.
• Use sunscreen.
• Wear clothes that minimise the amount of skin that is exposed to the sun.
You can find more skin safety tips to pass onto your clients on the NHS website.
Skin cancer training course
The MASCED programme (Melanoma and Skin Cancer Early Detection) offers a two-hour online training course along with a range of learning materials and resources you can take back to your salon or barbershop. The programme, which costs just £20, has been endorsed by NHBF and Habia and is worth 2 CPD (Continuing Professional Development) points.
MASCED works to raise awareness of the importance of sun safety. The MASCED accreditation programme has been developed by the national melanoma and skin cancer charity Skcin.
Skcin has been 'training eyes to save lives' across the UK's hair, beauty and healthcare industries since 2018. The MASCED programme trains professionals how to spot the early signs and symptoms of both melanoma and non-melanoma skin cancer and how to confidently signpost clients to seek appropriate action.
Says Skcin: "The on-line training platforms, backed up by printed learning tools and resources have been specifically designed to embrace the power of the 300,000+ professionals working across these industry sectors - all of whom who are perfectly placed to observe abnormalities or changes that may occur on their clients' skin (often in places they can't see themselves) and provide trusted advice in relation to signposting and prevention."
Checklist
Understand what skin cancer is and what it might look like.
Keep an eye on your clients' skin and be alert to any changes.
Don't alarm your clients if you spot something.
Do advise them to get medical advice to be on the safe side.
Offer clients skin protection advice.
Take the two-hour online course run by MASCED.
Health & safety backup and support for Members
Become an NHBF Member for less than 80p a day to take advantage of our range of indispensable health and safety benefits for salons and barbershops. These include:
You may also be interested in...
Need help with health & safety in your salon or barbershop? NHBF Members benefit from a comprehensive range of support and advice, including access to our free helpline and a generous discount on our comprehensive health and safety toolkits. Find out more.