Can a barbershop refuse to cut a woman's hair? Or charge more for doing so? Or stop women waiting for men having their hair cut? Would this be breaking the law? And is it good for business? Below is your essential guide to how equality law applies to barbershops.
This blog post covers:
What does the law say?
The Equality Act 2010 protects people from discrimination, including those who want to receive goods and services from a business. It aims to reduce inequality, ensuring people are not disadvantaged or treated unlawfully in any other way.
In England, Scotland and Wales,* the Equality Act 2010 applies to barbershops (as well as hairdressers and beauty salons) because they are businesses that provide goods and services to members of the public.
The law lists certain 'protected characteristics', including gender, and provides a range of protections for people which businesses must carefully observe. Otherwise they risk breaking the law and facing legal claims for damages, as well as harm to their reputation.
For barbershops, equality law means that when providing goods and services you must not discriminate against anyone on the grounds of gender. This also applies to individuals who have changed from one sex to another (gender reassignment) or are in the process of doing so.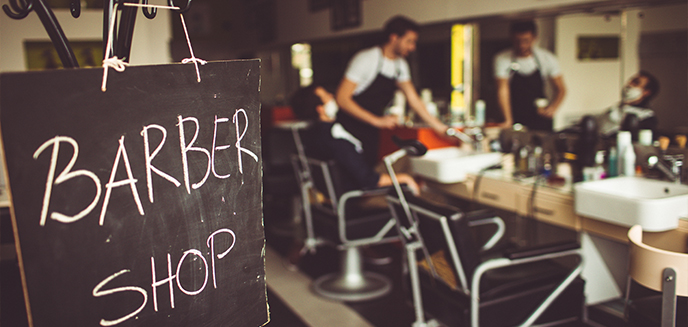 What is direct discrimination?
Direct discrimination is usually obvious and easy to spot. This occurs when you treat a person less favourably than you would treat other people because of a protected characteristic like their gender. For example, if you:
• Refuse to cut a woman's hair simply because she is a woman.
• Charge a woman more than a man for the same service.
Are there any exceptions that apply to my barbershop?
There are no exceptions to 'direct sex discrimination' which is always unlawful.
The services you offer must therefore be available to everyone, regardless of gender.
Don't forget – the law applies to free services as well as services you charge for. For example, models given free cuts are still protected by discrimination law.
Note that you cannot be expected to offer a service to a woman that you do not offer to men, for example, wedding updos or colouring services. If these are services you do not provide, then refusing to offer them to female customers would not be direct discrimination.
What is indirect discrimination?
Indirect discrimination can be more difficult to spot but is also unlawful. Indirect discrimination occurs when rules or ways of working are applied to everyone, but people with a protected characteristic, like women, are put at a disadvantage. For example, if you:
• Make a hairstyle favoured by women more expensive than others of a similar complexity. This will mean far more women than men will buy a hairstyle at an unjustifiably high price.
• Offer a reduced price to customers who have both a beard trim and a haircut/style: women cannot take advantage of this offer, so there will be indirect discrimination against women.
To stay within the law in relation to indirect sex discrimination, you would have to prove that you have a good reason (known as 'objective justification') for any way of working which affects women more than men (and vice versa). An objective justification must be more than your opinion: it must be something any reasonable person (and if necessary a court or tribunal) would agree is an acceptable reason.
Limited exceptions
Limited exceptions may apply only to indirect sex discrimination, not to direct discrimination.
Will the wording of my lease protect me?
If your lease states that your premises are to be used as a 'gent's hairdressing shop' or similar, this does NOT mean that you are entitled to refuse to cut women's hair.
In addition, most leases require the tenant to comply with all relevant law. This would include The Equality Act 2010.
Whatever your lease says, if you refuse to cut a woman's hair simply because she is a woman, this is direct discrimination and against the law.
Suggested approaches for your barbershop
Your approach to offering services and pricing should avoid using gender or any other protected characteristics as a consideration. The correct factors to consider are:
• The type of hair the customer has.
• The type of service they request.
• The products you will use.
• The time you will take.
• The skill and experience level required.
There are some exceptions. For example, you can focus on a particular group such as an ethnic group with distinctive hairstyles or on one gender – so it is acceptable to have a male focused barbershop. What you must not do, however, is discriminate, even indirectly, in doing this.
Equality policy for your barbershop
You should have an equality policy and make sure all your staff understand and follow it. ACAS offers a free equality policy template you can adapt for your barbershop.
Having an equality policy in place and ensuring everyone follows it will also help you avoid legal action because you can demonstrate you have done everything possible to avoid unlawful discrimination. It's also good practice to ensure your employees understand the requirements of equality law.
Good practice is good for your barbershop business
Giving your clients the respect they deserve and treating everyone equally can only be a positive thing for your business. It will enhance the reputation of your barbershop and avoid negative publicity and possible legal action. As a bonus, you will hopefully increase your profits by growing your client list.
A word of warning …
"Don't make the mistake of thinking this could never happen to you," says one NHBF Member. "A lady rang to ask if we could do a haircut for her, but as we're a barbershop we initially said no."
"We simply didn't know that by not providing this service we were risking accusations of discrimination. Once we realised, we did everything possible to put things right but not before we got a lot of negative comment on social media."
First gender-neutral hair salon in Wales
CHAIR salons has become the first salon in Wales to offer gender-neutral pricing. The salon website explains: "The prices are based on what hair you have, not what gender or age you are, so let us celebrate your individuality!"
Interviewed for WalesOnline, salon owner Casey Coleman said: "There's no such thing as a man's haircut or a woman's haircut. In 2018, the idea is totally outdated, it's unfair and it's prejudiced.
"If you're a woman who likes her hair short, you shouldn't have to pay more than the man having an identical cut in the next chair, because the 'ladies cut' costs up to £40 more. We'll only look at you for your suitability, not how old you are or what gender you are."
Found out more on the WalesOnline website.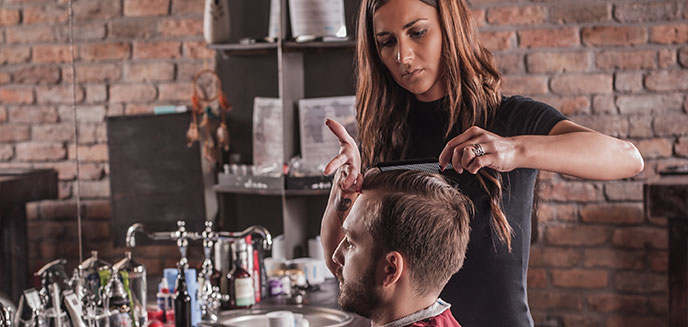 Who else is covered by the Equality Act 2010?
All the 'protected characteristics' are listed below. The law says that when providing goods and services you must not discriminate (directly or indirectly) against anyone on the grounds of:
• Age.
• Disability.
• Gender reassignment
• Pregnancy/maternity, e.g. breastfeeding.
• Marriage and civil partnership
• Race.
• Religion or belief.
• Sex
• Sexual orientation.
Find out more
Follow the links below for more information about the Equality Act 2010:
• Online guidance at GOV.UK.
• The Equality and Human Rights Commission provides a guide to the Equality Act 2010 for businesses who sell goods and services. This guide also offers advice about what to do if your barbershop is accused of discrimination.
Equality Act checklist for barbershops
• The Equality Act 2010 applies to your barbershop.
• Direct and indirect sex discrimination is against the law.
• There are no exceptions to direct sex discrimination.
• Very limited exceptions apply to indirect sex discrimination
• Have an equality policy in place and make sure your staff understand and follow it.
• Good practice is good for business.
* With limited exceptions the Equality Act 2010 does not apply in Northern Ireland, although Northern Ireland does have its own equalities laws. Therefore, it's good practice to follow the guidelines outlined above.
More from the NHBF
Bookmark our website to make sure you're up to date with all the latest news, views, information and advice relating to the hair, beauty and barbering industry.
Simply register for free to download these in-depth expert guides:
• Starting up
• Salon software
• Apprenticeships
• Pensions
Read our brilliant blog posts to gain expert business insights into key hair, beauty and barbering issues, including:
Business banking and cash flow forecasts
Health & safety and public liability insurance
National Minimum Wage and recruiting the right team
Social media and building a business website
Become an NHBF Member for less than 75p a day to take advantage of our range of additional support tools and services to help you grow a profitable business.