Hairdressing, barbering and beauty are people-intensive industries. Your business success depends on the skills, attitude and personality of the people who work for you. That's why attracting and recruiting the right team will make all the difference to the future prosperity of your business.
This blog post covers:
Identify the employee your salon or barbershop really needs
When faced with a sudden vacancy don't assume you need to replace 'like with like'. For example, if a senior member of staff has resigned, you may have an existing member of staff who is ready for promotion. This leaves you free to decide exactly who you need to help take your business forward. Are clients asking for services that you don't currently provide? Can you see a gap in your local market? Do you need more cover for evenings or weekends? Don't forget that many highly skilled candidates will be looking for part-time work.
When you are clear about who you need, you can start to put your job ad together.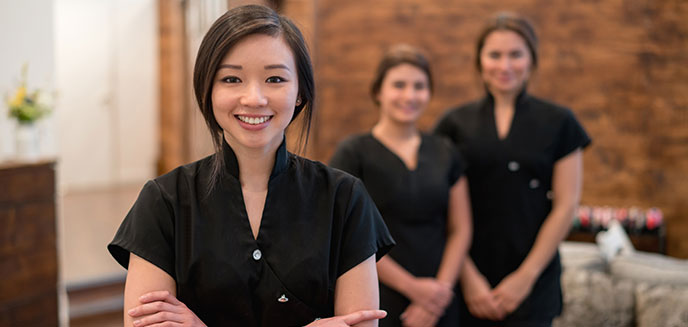 Advertising your vacancy
Make sure your job advert is clear, concise and will grab people's attention. You'll need a short, snappy heading that sums up the vacancy, strong imagery that represents your brand and business culture, and an accurate summary of the job including level of seniority, qualifications required, and main responsibilities. You'll also need to state the hours of work and pay and be clear about how people can apply.
Stay legal when advertising: Don't use descriptions that discriminate against groups of people. For example, you can't advertise for a 'bright, young female stylist' or a 'mature, male barber'. You must also be careful about where you advertise. For example, if you advertise in a magazine aimed at women only, this may be discriminatory.
There are several ways to advertise your job vacancy, including:
• Word of mouth – ask your team to spread the word, and find out about job fairs, local employer events and networking events.
• Placing the job ad in your salon/barbershop window or by the till.
• Posting the job ad in local shops and colleges.
• Online job sites – some are free or low cost. You can use filter questions to save time on shortlisting later but you may still get lots of unsuitable applications.
• Via your social media channels – more effective if you are already active online.
• Via your website.
• Local newspapers.
You could also consider using a specialist recruitment agency who knows the industry. Agencies can help with all aspects of the process from writing job ads to interviewing.
HJi and Professional Beauty offer a dedicated jobs website where you can advertise your hair, barbering or beauty vacancy. Prices start at £59 for 30 days. You'll need to register on the site.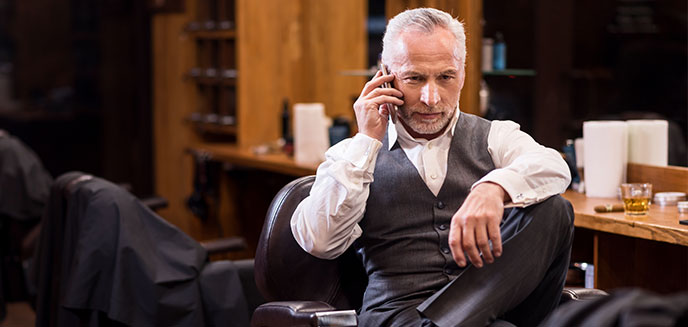 Telephone screening job applicants
Save yourself unnecessary face-to-face interviews with unsuitable candidates by doing an initial screening over the telephone. You'll learn a lot about the candidate's technical skills, confidence levels, professionalism, communication skills and style of speaking. You can then make an informed decision about whether or not to invite them in for interview.
Stay legal when interviewing: You can't ask questions that may be discriminatory, for example, about place of birth, ethnicity, religion, marital status, children or pregnancy, sexual orientation, age, medical conditions or lifestyle choices.
Face-to-face interviews
Throughout the interview, keep your 'ideal' candidate in mind and remain objective. Don't allow your emotions to get the better of you. Your interviewee may be a lovely person who you instantly warm to, but can they do the job?
Use your prepared questions as a prompt and make notes of each answer. You may think you'll remember who said what afterwards, but you really won't.
Ask 'open' questions that encourage the candidate to speak, rather than closed questions that just require a 'yes' or 'no' answer. For example, a closed question is:
Do you like doing manicures?
This can be transformed into the open question:
Why do you like doing manicures?
The second question gives the candidate a chance to talk about their work and will reveal more about their personality, approach and passion for the job.
A candidate's portfolio of work is also a great talking point and will help you understand what makes them 'tick'.
Try to gain an insight into their level of understanding of the wider industry, how committed they are, and what their ambitions are.
Always give your interviewee a chance to ask questions. Be prepared with answers to common questions about training, progression and career development.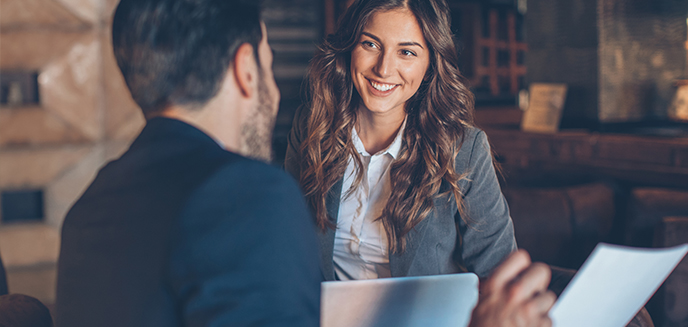 Hair & beauty trade tests when recruiting
Trade tests can be a great way to gauge candidates' skills in a practical and targeted way.
The key is to be prepared. Make sure you tell candidates what will be provided and what they need to bring: think about tools, a model, timings etc. Let them know how long the test will take and exactly what you will be looking for.
Make a checklist of the skills you are looking for so you can quickly rate the candidate's performance from 1 (poor) to 5 (excellent). Remember to also jot down your comments during the tests so you can easily review your candidates afterwards. Your notes will also provide the basis for feedback to unsuccessful candidates.
Is your candidate eligible to work in the UK?
It's your responsibility to check if an applicant is legally allowed to work in the UK. Illegal workers include people with expired student visas, or students on visas working more hours than the visa allows. People on a visitor's visa cannot be employed.
Always:
• Ensure you see the original documents.
• Check they are valid for your particular applicant.
• Make and keep copies of documents and record the date you made the check.
• Retain evidence of the right to work in the UK for all your employees.
Make sure you comply with GDPR when recording and storing personal data.
Download our detailed Members-only guide to GDPR.

Download our GDPR toolkit which includes templates to help you comply with GDPR.

Not yet a Member? Join us now for less than 75p a day to access this user-friendly in-depth guide and make sure you are complying with GDPR.
Take up references
Try to get references before your new hair or beauty employee starts work, but if you can't, ensure that the offer of employment is subject to satisfactory references.
Job offer letter
Your offer letter should state:
• The hours of work.
• Job role.
• Start date.
• Pay and holiday entitlement.
• Information relating to bonuses, commission and pensions.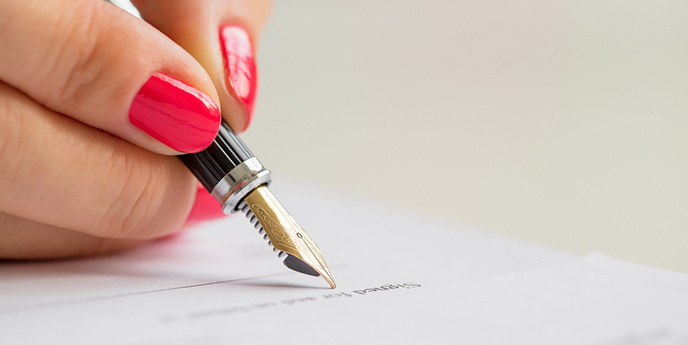 Employment contracts for salon and barbershop recruits
Make sure you both sign a formal contract of employment. The NHBF provides Members with free contracts and staff handbooks for employees and apprentices.
From April 2020, a new employee must be given a written statement that includes all the terms and conditions of their job on the first day of their employment.
This is a change from the current law which says you must do this within two months.
The NHBF's contracts and staff handbooks which are free to Members include all the necessary terms and conditions. It's good practice to send out the contract for signing with the offer letter in advance of day one.
Find out more about the importance of all types of contracts for your salon or barbershop business.
Updated employment contracts
The NHBF is advising Members who employ staff to update their employment contracts and staff handbooks to ensure they comply with new laws that will apply from April 2020.
"As a Member, you can download the NHBF's updated employment contract and staff handbook free of charge," says NHBF director Tina Beaumont-Goddard, "and we're also providing a letter that you can give to your employees to explain the changes. You must use the updated contract for new staff employed from 6 April 2020.
"However, you only need to give existing staff the updated contract if they ask for one or if their terms of their employment change. You would have to do this within one month."
The changes in the contract and handbook cover a number of different issues, including:
Hours of work.
Rights in relation to different types of leave.
Training requirements.
Performance improvement procedures (PIP).
Use of work telephones for personal calls.
For more information about this, please call our friendly membership team on 01234 831965, 9am-5pm, Monday-Friday.
Set a probationary period
This is usually three or six months. Remember to note the probation period end date so that you can assess the individual's performance before the probationary period ends.
Use the probationary period wisely. Make time for regular performance reviews, offer constructive feedback and keep records of all feedback given. Proactive performance management early on will help to mould the kind of team player you want your new member of staff to become in the long-term.
Making the effort to monitor, mentor and support from day one will pay dividends. Both positive and negative feedback will be accepted more readily as part of the mix, avoiding the need for 'difficult' conversations out of the blue.
Find out what rights your employee has from day one of their employment.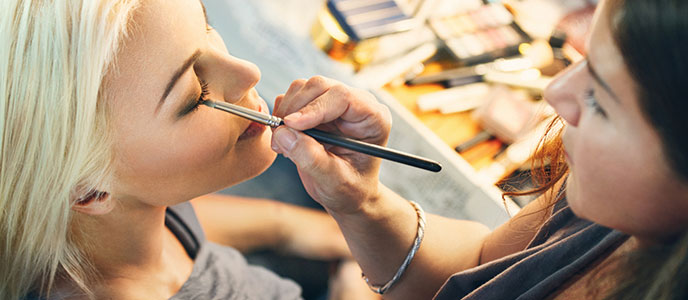 Put new recruits on your salon or barbershop payroll
You will need to set up a payroll record with HMRC so ensure you get the following details from your new employee and process it before their first payday:
• P45.
• Full name.
• Gender.
• Date of birth.
• National Insurance number.
• Full address.
Time to hand over the reins? Hiring a manager
Would you like to hand over the day-to-day management of your salon or barbershop to someone else? If so, how do you find a manager you can trust with the future success of your hair, beauty or barbershop business? Read our blog post for some top tips.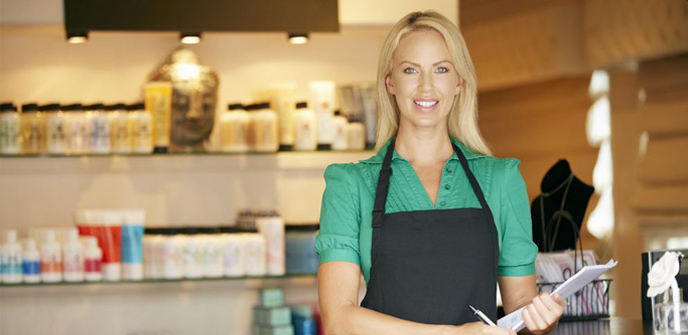 Taking on an apprentice
Taking on an apprentice is your chance to offer someone a great opportunity and pass on your skills and experience to a new generation. It's also an excellent way to grow your own loyal workforce to suit the needs and culture of your business.
Training an apprentice is also more cost-effective than hiring pre-skilled staff.
Not sure where to start? Read our blog posts to discover some top tips on how to find an apprentice and some of the practicalities involved.
Checklist
• Identify the type of employee your business really needs.
• Make your job ad clear, concise and legal.
• Screen applicants via telephone to cut down on unnecessary face-to-face interviews.
• Prepare open questions for face-to-face interviews and ask them to bring their portfolio.
• Provide clear instructions about trade tests and be ready to offer feedback to unsuccessful applicants.
• It's your responsibility to check if your applicant is eligible to work in the UK.
• Take up references before your new employee starts work if possible.
• Make sure your new employee is given an employment contract and staff handbook.
• Use the probationary period wisely and make time or regular performance reviews.
• Get your new employee on the payroll.
• Consider hiring a manager if you're ready to hand over the reins.
• Explore the benefits of taking on an apprentice.