24 September 2020
The Chancellor, Rishi Sunak has today announced new financial support measures to protect jobs in businesses facing lower demand, due to COVID-19. The package of measures includes:
1. A new Job Support Scheme:
Focussed on keeping people in work, rather than paying for jobs that may no longer exist
Supports jobs where people are working but on shorter hours
To qualify, employees must work at least 33% of their hours, with employers and the government paying a third of the remaining wages each
Open to all small and medium businesses - larger businesses will only qualify if their turnover has fallen
Available to businesses across the UK, even if they haven't used the furlough scheme before
Starts in November and will be in place for six months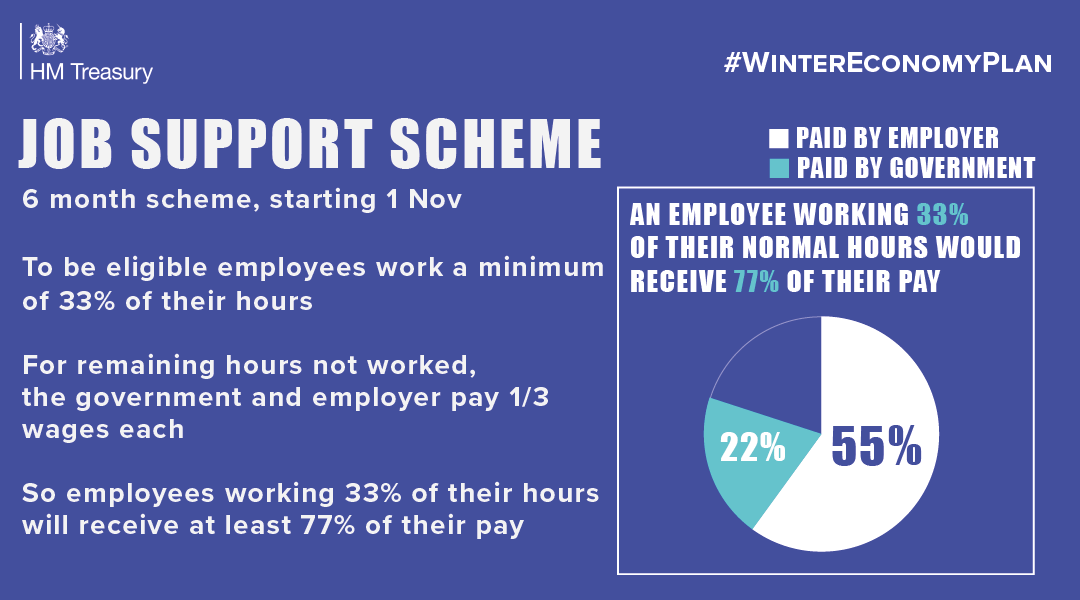 2. 'Pay as you grow':
The government's Bounce Back loans will be able to be extended from six to ten years, which could halve repayment costs
3. Changes to the terms of other loans schemes:
Extension of government guarantee to up to ten years and an extension to the deadline to apply for all current loan schemes to the end of the year
4. More time and flexibility on deferred tax bills:
Businesses will be allowed to spread their VAT bill over eleven smaller payments with no interest
5. The Self-Employment Income Support Scheme extension:
To support traders facing reduced demand over the winter months, covering 20 per cent of average monthly trading profits via a government grant
Commenting on the announcement, Hilary Hall, NHBF Chief Executive said, "We have been working very hard to get through to the government that businesses are facing a cliff edge with the furlough scheme coming to an end in October and many businesses still trading well below normal levels.
"We had been pushing for the furlough scheme and self-employment income support schemes to be extended for sectors such as ours hardest hit by the pandemic. With employers still being asked to foot wage bills despite poor trading, the Job Support Scheme does not go far enough to save jobs for or to save businesses.
"We fail to understand why the hair and beauty sector has not benefited in the same way as hospitality and leisure from VAT being cut to 5% and until the end of March. A VAT reduction to 5% would provide a much-needed boost for the sector, particularly as there are few costs from which salons and barbershops can claim VAT back."