There is a lot to think about when starting your own hair/beauty salon or barbershop. It involves a great deal of hard work and planning, but it's also extremely rewarding and great fun. With the help of Salons Direct and Gary Hooker and Michael Young, the masterminds behind the award-winning Hooker & Young hairdressing brand, we've put together ten top tips to help get you started.
This blog post covers:
Here are ten things that you need to consider when thinking of starting a business:
1. Business Plan
First, you need a business plan; it is pointless trying to set up a salon or barbershop business without spending time on the planning. You'll need a plan for the immediate setting up, then for the first year, the first three years and the first five years. Your business plan needs to be thorough and should be reviewed annually. A business plan is essential if you need to borrow money, but is also a great reminder of your goals and of how much you have achieved so far.
Download our free guides to find all the information you need about opening your own hair salon/barbershop or beauty business, including how to create a business plan and get finance.
"Create a business plan and stick to it," says Michael of Hooker & Young. "This way you can budget for stock, wages and other outgoings with a clear path forward and avoid getting into financial difficulty.
"Location is key and must be relevant to your business model. With top locations come high overheads so you must have a realistic view of what you want to achieve."
NHBF Trade Member Penny Etheridge of Radiant Hair Consultancy agrees:
"Don't let your heart rule your head when it comes to choosing a salon or barbershop," she says. "Location is every bit as important as the building." She lists some key factors to look out for, including:
• Footfall.
• Competitors in the area.
• Parking facilities.
• Transport links.
2. Finance and budgeting
Do you need a loan for your new salon or barbershop business? If so, how will you pay it back? Make sure you know the terms of the loan and what your interest payments will be.
What equipment do you already have? What do you need to buy? You will need to factor in any equipment costs when compiling a cash flow forecast.
Set up a bank account – most banks offer 18 months free banking, but find out what the charges will be when the free period comes to an end. Consider what types of payment you will take (cash, debit cards, credit cards?), and how you will record your transactions. Find out more about business bank accounts.
Penny Etheridge also advises checking out what's on offer from the government, for example, government-backed Start Up Loans of between £500 and £25,000 plus free support and guidance to help write your business plan and free mentoring. Find out more at GOV.UK.
Don't forget to register your hair/beauty salon or barbershop with HMRC – you can do this online. You must register within the first few months of trading. Consider employing an accountant – they can be invaluable. Set up a cash book for daily income and expenditure so you have an accurate record of incomings and outgoings. Make sure you keep all your receipts.
"Know your accountant," Penny adds. "and have regular meetings with them. Make sure you understand everything that your accountant and bank say to you. Your accountant will save you money in the long run – but don't be afraid to change your accountant if you don't get on with them."
3. Type of business
Will you be a sole trader, limited company or partnership?
It is straightforward to set up as a sole trader, but you will be personally responsible for your business debts.
If you run a limited company, your personal finances will remain separate.
If you want to set up in business with other people, a partnership is the simplest way of doing this.
Find out more about types of business on the GOV.UK website.
NHBF Member, MachFast allows new businesses to register their business and open a business bank account in just a few clicks.
4. Choosing salon staff
"When choosing your team make sure you employ like-minded people who you can build a solid working relationship with," says Gary of Hooker & Young. "Start small and build your team as the salon grows organically. A good front of house is a hugely important role and can help make your business a huge success."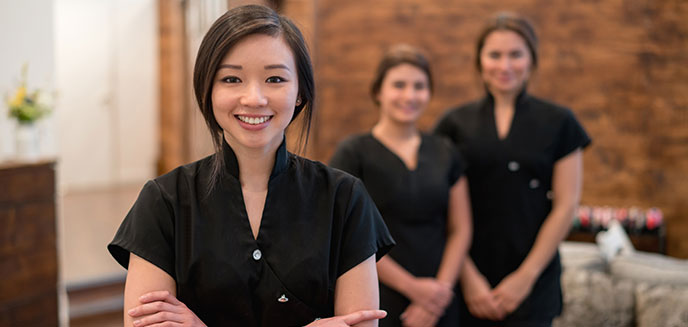 Find out how to recruit the right team.
5. Insurance for start-ups
It is vital to have proper insurance in place to protect your clients, your employees, yourself and your business. Don't forget – the law says you must have Employers' Liability insurance as soon as you employ anyone. NHBF Members can get 20% off their insurance with Coversure.
6. Naming your salon or barbershop
What will your business name be? When choosing a name for your salon or barbershop, a good first step is to make sure no other business has already taken the name. You can do this very quickly on the Companies House website.
It's a good idea to make your company name quirky and memorable. A name that starts with one of the first letters in the alphabet means it will be listed higher in directories. (However, this will not make any difference to your Google ranking.)
7. Services, pricing and products
What services will your salon or barbershop offer? Will you specialise to make your business stand out from the crowd? Or will you offer a wide range of services, treatments and retail products?
How will you price your services? Check out your competitors to see what services they are offering, and collect price lists from local salons or barbershops. It will probably be best to offer similar prices – but always make sure you are not cutting your margins too fine. You must know what the cost is to you so you can set prices that will be profitable.
What products are you going to use? Are you going to invest in expensive well-known brands or start with good quality products from the wholesalers? Are you going to stock retail items or provide services only? Retailing will boost your turnover, but is of course 'dead' money, as you have to buy stock up front. It can be a good idea to stock a small amount of retail to help create loyalty and increase profits.
Find out how to make your salon and barbershop staff retail savvy.
8. Competitors
Who is your competition? It's very important to be commercially aware. Make sure you know about your competitors' services, products, promotions, offers, new treatments and techniques. Also, keep up to date with new trends in the beauty, hair or barbering industry. Make sure you have a 'unique selling point' (USP) that sets your salon or barbershop apart from your competitors. Your USP should be part of your Business Plan.
9. Hair & beauty clients
Who will your clients be? Are you aiming for a certain market or age group? Local clients only or further afield? Do you want a younger client base? Students? A more mature client base? You'll need to know this so you can organise your marketing and publicity.
10. Marketing and PR
How are you going to attract clients? Where will you advertise? Newspapers, leaflets, local magazines, social media? Make sure you have a marketing plan for the first 12 months and review it for the following year to see what worked and what didn't. Effective advertising and marketing are vital to help create your brand image and awareness of your business.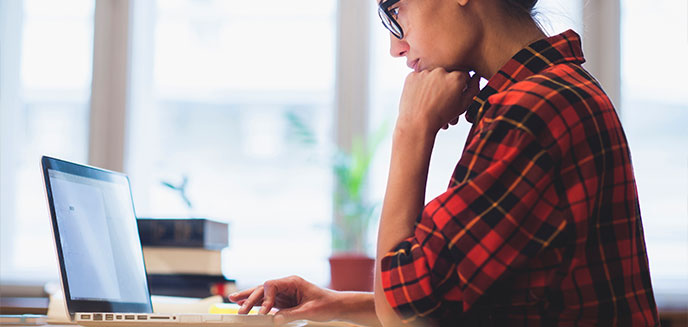 Aim to reach your audience with different forms of advertising and social media so you create maximum awareness and people start to recognise your name. This may be newspapers, leaflet drops, parish magazines, Facebook, Twitter, and Instagram, as well as website/internet publicity, posters and leaflets in local shops.
Discover the secrets of low-cost marketing.
Create a striking logo to help build your brand with distinctive colours and fonts. The experience you offer your clients once they come through the door is also a key part of your unique branding.
| | |
| --- | --- |
| | Find out how to create a successful salon marketing plan: Members only can download our free marketing guide. |
It's important to have a useful, appealing and easy-to-use website. Discover some great website building tips for your salon or barbershop.
Penny Etheridge offers some additional ideas for promoting your business:
• Throw an opening party for other local businesses – this is a great opportunity for you and your team to socialise and do some mutually beneficial networking.
• Hold client indulgence evenings on a regular basis.
• Get involved with a local charity and participate in hosting fund-raising events. This is a great way to generate local publicity in the press and on radio.
| | |
| --- | --- |
| | Don't forget: GDPR introduces strict data protection rules that will affect how you carry out your marketing. Stay within the law: download our detailed Members-only guide to GDPR. Not yet a Member? Join us now for less than 75p a day to access this user-friendly in-depth guide and make sure you are complying with GDPR. |
Support for your new salon or barbershop
Just starting up? Join us!
Become an NHBF Member for less than 80p a day and get instant access to a wide range of additional benefits that offer incredible value for money. We'll help you boost your business while keeping you safe, legal and bang up to date with all the latest business legislation that will affect you. Benefits include:
• Our friendly membership helpline for everyday business support.
• Free 24/7 legal helpline.
• Essential health & safety kits.
• Free tax and commercial helpline.
• Free Member-only in-depth guides about all aspects of running your business.
• Savings and discounts on business essentials including insurance.
Find out more about all the benefits of membership and how it could help you in the early stages of setting up a business.
Salon and barbershop start-up checklist
• Create a business plan and stick to it.
• Sort out your finances, including a business bank account.
• Decide on your business set up: Sole trader? Limited company or partnership?
• Recruit the right team.
• Don't forget business insurance.
• Choose a good name for your business.
• Decide on your services and prices.
• Keep an eye on the competition.
• Use advertising and social media to attract more clients.
• Join the NHBF for fantastic business support.
You may also be interested in...