Debit card payments overtook cash payments for the first time in 2017, says a recent report from UK Finance, a trade association that represents the UK finance and banking industry. And almost two thirds of Britons now use contactless payments, with the number of transactions increasing by an amazing 97% during 2017 to 5.6 billion.
Are you ready to respond by offering cashless and contactless payments in your salon or barbershop? Also - make sure you understand the law in relation to card payments.
This blog post covers:
Merchant accounts
To accept payments by card, you will need a merchant account. This works as a link between your card machine and your bank account. Payments will go into your account by BACS typically within three working days. Ask your bank for advice but also shop around to compare transaction costs. Find out more about choosing the best bank account for you.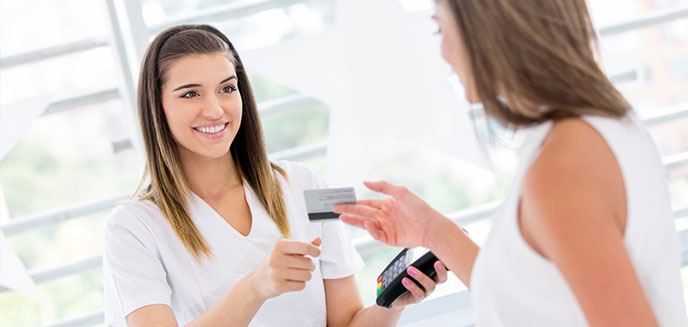 Choose a card machine
For the majority of salon and barbershops businesses the most cost-effective option is to rent a card machine. NHBF Trade Member Global Payments offers NHBF Members preferential rates, plus no sign-up fees and no hire fees for the first three months.
You can select a fixed or portable card payment machine.
Contactless payments
Contactless payments are a fast and secure way to make payments, usually of £45 or under (the amount was increased from £30 to £45 in April 2020).
There is no need for a pin number or a signature – the person paying simply taps their card on or near the pay terminal and the money is transferred. This is sometimes referred to as 'tap and go'.
Contactless payments can also be made without credit or debit cards by using systems such as Apple Pay, Android Pay, Samsung Pay and Google Pay via mobile devices. Payments of over £30 can be made using these systems, but additional security is required such as a PIN or fingerprint.
The fees for processing contactless payments are the same as for chip and pin methods, so you won't be left out of pocket. Payments are processed through the same secure networks.
A useful option
Contactless payments are especially valuable for barbershops where payments of under £30 are common. They allow the client to pay in seconds, reducing queues at peak times.
They're also fast and convenient for hair and beauty salon clients who want to buy retail products or pay for lower-cost services such as manicures.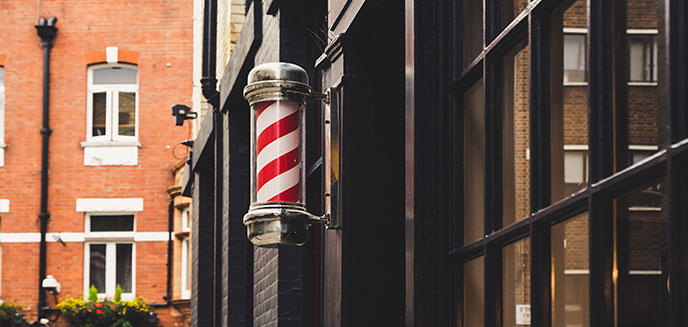 How to offer contactless payments
You will need a payment terminal that accepts contactless payments via near-field communication (NFC technology). Two-in-one models are available that accept both contactless and traditional chip and pin payment methods.
Speak to your payment terminal provider to find out more. Also, add a date to your diary: your card payment machine must be able to accept contactless payments by January 2020.
| | |
| --- | --- |
| | This guide will help you understand the basics of financial management for your business including tax, VAT, accounting and record keeping. It's available to NHBF Members only. Not yet a Member? Join today. |
Keep the cash …
However, don't ditch cash payments just yet. UK Finance says cash will still be the second most frequently used payment method in the UK by 2027 – so it's unlikely that the UK will become a cashless society in the near future.
The best advice is to offer a range of payment methods so your clients can pay in the way that suits them best.
What the law says: charging extra for card payments
Since January 2018, it has been against the law to charge your clients extra for paying by credit card, debit card or via methods such as PayPal. This means you have to absorb the costs of offering card payment. Alternatively, you can:
Increase your prices to help cover the cost (these prices must apply to all clients whichever payment method they use).
Negotiate lower fees with your financial services provider.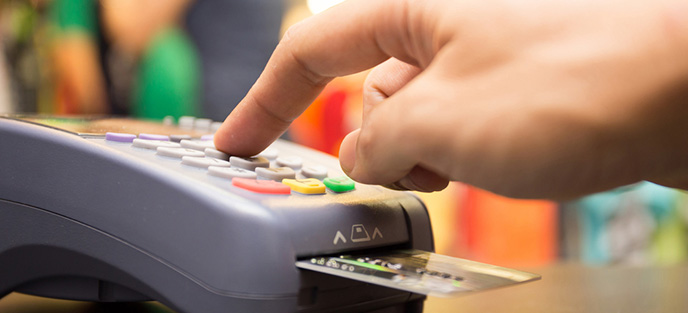 Do you accept payment for goods or services online? If so, you have until 14 September 2021 to comply with extra security requirements for online payments.
The new rule, called 'Strong Customer Authentication' (SCA), means that clients who pay online via a credit or debit card will have to provide an additional form of identification. The aim is to prevent fraud which has continued to increase over the past decade.
What will clients have to do?
If their payment is over the equivalent of €30 (30 euros) they will need to provide extra security information. This will be in addition to the usual name, card number, expiry date and three-digit number on the back of the card.
If they don't provide this extra security information, their payment will be declined by the cardholder's bank.
Three types of additional security information can be used:
• Knowledge – this is something only the cardholder knows such as a password or PIN.
• Possession – this is something only the cardholder possesses such as a smartphone or an app; possession can be proven via, for example, a digital signature or one-time password.
• 'Inherence' which simply means something unique to the cardholder's body such as their fingerprints, voice recognition or an eye scan.
Taking payments over the phone?
The new SCA rule will not apply to payments taken over the phone. (These are known as 'mail order and telephone orders', or 'MOTO').
Chip & PIN and contactless
Chip & PIN already complies with the SCA rule and contactless payments are exempt.
What do you need to do?
Speak to your payment software provider to check that your site will be ready for the new rule.
Add some information to your online payment pages to explain you are complying with the new rule. Clients may see this as an added inconvenience so emphasise that the aim is to prevent their card being used by fraudsters.
Checklist
Debit and contactless payments are increasingly popular.
Cash will remain an important method of payment for a good while yet.
You'll need a merchant account to accept card payments.
Hiring a payment machine is the most cost-effective option.
Ask your provider about accepting contactless payments.
The law says you can't charge your clients extra for paying by credit card or debit card.
From 14 September 2019 'Strong Customer Authentication' will be in force.
Offer a range of payment methods to meet all your clients' needs.
More from the NHBF
Bookmark our website to make sure you're up to date with all the latest news, views, information and advice relating to the hair, beauty and barbering industry.
Simply register for free to download these in-depth expert guides:
• Starting up
• Salon software
• Apprenticeships
• Pensions
Read our brilliant blog posts to gain expert business insights into key hair, beauty and barbering issues, including:
Business banking and cash flow forecasts
Health & safety and public liability insurance
National Minimum Wage and recruiting the right team
Social media and building a business website
Become an NHBF Member for less than 80p a day to take advantage of our range of additional support tools and services to help you grow a profitable business.
You may also be interested in...