We explore some of the benefits and practicalities of taking on an apprentice, including the 'grab a grand' scheme, apprentice pay rates and the new Standards (Trailblazers) in England. We also hear from the inspirational Melissa Timperley who started out as an apprentice with Sassoon and now runs an award-winning salon in Manchester.
National Apprenticeship Week 2021: 8-14 February 2021
National Apprenticeship Week 2021 aims to shine a light on the amazing work being done by employers and apprentices across the country.
A toolkit is available now to support the apprenticeship community with planning their activity for National Apprenticeship Week 2021. #NAW2021 #BuildTheFuture
Scotland
Scottish Apprenticeship Week is 1-5 March 2021. Find out more on the Scottish Government website. Download the toolkit and get involved. #ScotAppWeek21
This blog post covers:
The benefits of taking on an apprentice
Employing an apprentice is your chance to offer someone a great opportunity while also growing your own loyal talent and bringing a young person's energy, creativity and ideas to your business. Training an apprentice is also more cost-effective than hiring pre-skilled staff.
A guide created by the Learning and Work Institute for the Department of Education lists a number of ways in which apprentices can boost your business. These include:
Young apprentices can be among the most dedicated workers, bringing fresh perspectives and new skill sets into the workforce.
They provide opportunities for employers to 'grow their own' and develop a crucial talent pipeline for businesses.
You can instil your company's culture from the start. This can help the apprentice to quickly integrate into your way of working and gain the skills and behaviours needed to develop and progress.
It can be easier to train an apprentice who has not picked up 'bad habits' elsewhere.
'Homegrown' apprentices tend to be loyal and more likely to stay on with their employer. They can progress and be promoted saving you recruitment costs.
Young apprentices can bring valuable new skills and a fresh approach, offering a different perspective and providing a positive influence on your business. This can result in increased efficiency and profitability.
Existing staff can gain new skills by mentoring and supporting apprentices.
What's new?
In England only, apprenticeship frameworks have been phased out and replaced by Standards (Trailblazers).
Standards for level 2 are now government-approved and they are set at a higher standard as they include a wider range of skills than the older apprenticeship frameworks; apprentices will develop all the skills they need to work in a salon or barbershop.
Hair Professional Standards (Trailblazer) in England:
Standards (Trailblazer) beauty professional apprenticeships are now available in England:
The NHBF offers Members free apprenticeship agreements for salons across the UK, including the new Standards agreements for England.
Reforms are also underway in Scotland, Wales and Northern Ireland – check online for updates at Skills Development Scotland (www.skillsdevelopmentscotland.co.uk), Welsh Government (gov.wales) and the Northern Ireland Assembly (www.niassembly.gov.uk).
'Grab a grand' if you take on a young salon apprentice
If your business has fewer than 50 employees, you and your training provider will each receive an incentive payment of £1,000 for each 16-18-year-old (or 19-24-year-old who has been in care or has a local authority care plan) apprentice you take on. Find out more about the funding you may be entitled to on the GOV.UK website.
Additional incentives are also currently available across the four nations. Find out more:
England
Wales
Northern Ireland
Scotland
Apprenticeship levy and funding for hair and beauty salons
Employers who have a pay bill of over £3 million a year must pay an apprenticeship levy.
Funding varies depending on where you are located in the UK. Find out more:
England
Wales
Northern Ireland
Scotland
Case study: from apprentice to award-winning salon owner
We catch up with NHBF Member Melissa Timperley, an academic high achiever who left school at 16 to follow her passion for hairdressing. Thanks to her single-minded dedication and sheer hard work, she is now the owner of a multi award-winning salon in Manchester's fashionable Northern Quarter.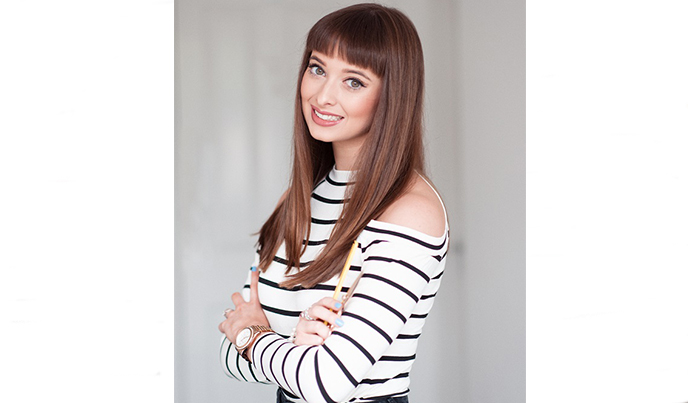 When and how did your passion for hairdressing begin?
I've always been passionate about hair and have photos of me at age three with all my dolls' hair done in a range of plaits and updos!
It wasn't easy for me to go into hairdressing as I did well academically and my parents would ideally have wanted me to take a different career route. But they could see that this was what I wanted to do so they agreed that I should train with the best and I joined Sassoon in Manchester as an apprentice aged 16.
How did you make sure you got the most out of your apprenticeship with Sassoon?
I loved learning precision cutting techniques and making the client journey special. The Sassoon training for cutting and colour is regarded as the most rigorous in the industry and I lapped it all up.
I enjoyed much less the 'drudge' side of being an apprentice as I was ambitious and wanted to move much faster than the process allowed. But it's important to recognise that you must learn all aspects of the profession thoroughly.
What qualities do you look for when taking on an apprentice?
We want someone who sees hairdressing as a profession, not just another job. That's the base level for me. Add to that a warm and friendly personality, an eye for what a beautiful haircut and colour looks like, and the determination and resilience to learn their craft – as well as make mistakes along the way.
How do you keep your apprentices motivated?
The ingredients for success lie partly with the individual's passion for the industry and their willingness to learn. The other element is the interest and personal support given by salon management. We see, and treat, our apprentice Halle as a key member of our team and vital to our future success. We ask a lot, but we try to give a lot too. We will be in it with her through thick and thin to help her achieve her ambitions with us.
What advice would you give to someone thinking of becoming an apprentice in the hair and beauty industry?
Make sure that you are really focused on making a career in hairdressing before you take on an apprentice role – don't just fall into it because you can't think of anything else to do. You need to have a vision of how you will use your talent and creativity, and a sense of who you are and what you want to do.
Try to learn from the very best, watch how they do things, how they consult with clients, how they cut and style, the techniques they are using and why, how they talk to clients and so on. Take every opportunity to get further education from shows and training inside and outside your salon.
Read the industry magazines to keep up with the latest trends and what's happening in our great business. With the support of your salon management, enter competitions. Our own apprentice, Halle, came third in her first ever competition last year and now she's got the confidence to do more, keep growing and be the best that she can personally be.
| | |
| --- | --- |
| | If you're thinking of taking on an apprentice, find out more by downloading the NHBF's free expert Apprenticeships Guide. NHBF Members also benefit from free apprentice agreements, help and advice from our friendly membership team on 01234 831965 and access to the free 24/7 legal helpline. |
Pay rates for hair and beauty apprentices: don't be caught out
From April 2021, apprentice rates rise from £4.15 to £4.30 an hour.
But don't be caught out: an apprentice aged 19 or over must get the National Minimum Wage appropriate for their age in the second year of their apprenticeship. For example, £6.56 (from April 2021) for 18-20-year-olds.
It's important to get this right because employers who underpay can be fined up to £20,000 and publicly 'named and shamed' by the government.
Rate from April 2020

Rate from April 2021

National Living Wage

£8.72

£8.91

+2.2%

NMW: 21-22-year-old-rate

£8.20

£8.36

+2.0%

NMW: 18-20-year-old-rate

£6.45

£6.56

+1.7%

NMW:16-17-year-old-rate

£4.55

£4.62

+1.5%

Apprentice rate

£4.15

£4.30

+3.6%
Apprenticeships checklist
• Check out the Standards (Trailblazers) for England.
• Keep an eye on reforms in Scotland, Wales, and Northern Ireland.
• 'Grab a grand' if you take on a young apprentice.
• Understand the apprenticeship levy and funding if you're a very large employer.
• Don't be caught out by apprentice pay rate rules.
You may also be interested in...
Need help with health & safety in your salon or barbershop? NHBF Members benefit from a comprehensive range of support and advice, including access to our free helpline and a generous discount on our comprehensive health and safety toolkits. Find out more.